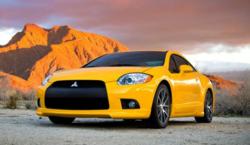 San Antonio, Texas (PRWEB) May 31, 2011
When it comes to the Mitsubishi Eclipse Coupe and Eclipse Spyder, the sales team at Mission Mitsubishi - the premiere Mitsubishi dealership in San Antonio - knows that it is a very special car that is loved by many people - all over the world.
From its humble beginnings as a four cylinder sporty car to its current V6 power with superior handling and comfort, the Eclipse and Spyder have both come a long way over the years. To commemorate that, Mitsubishi is planning on a special 2012 Edition Spyder and Eclipse Coupe.
The other news is a bit sad. After a long and successful run as the Japanese auto manufacturer's signature luxury performance sports coupe in North America, the Mitsubishi Eclipse will cease production after the upcoming 2012 model year.
To further honor the 2012 Mitsubishi Eclipse Coupe and Eclipse Spyder, they will be available in a unique SE Special Edition that will feature eye-catching exterior features including special "SE" side decaling, black side mirrors and handsome 18-in. dark finish alloy wheels, along with the extensive list of high-end standard features that can be found on the Eclipse GS-Sport versions of both the hardtop and convertible models.
The top-of-the-line Eclipse GT Coupe and Spyder editions feature a 265 horsepower, 3.8-liter SOHC MIVEC 24-valve V-6 that is mated to a 5-speed automatic transmission that makes use of Mitsubishi's Sportronic transmission technology, allowing the driver to manually select gearshifts when so desired. An automatic climate control system is also an included feature on all Eclipse GT models.
Consumers who are interested in the new Eclipse models for 2012 or any of the other great new and used vehicles that Mitsubishi Motors has to offer are encouraged to stop by Mission Mitsubishi. As the premiere Mitsubishi dealership in San Antonio, Texas and surrounding areas, they have the service and selection that you should demand when shopping for a new or used vehicle.
# # #