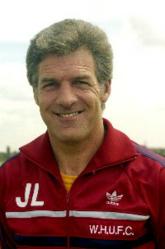 John always supported grass roots football and it seemed fitting to donate the money to such a worthwhile cause
Lawford, Essex (PRWEB UK) 27 May 2011
John Lyall will always be remembered as the Manager who led West Ham United through their glory years. He won the FA cup with the club in his first season as manager and went on to win the second division title and lead the club to a third place finish in the first division before leaving the club in 1986 after 34 years' service. John also managed Ipswich Town Football Club and continued to live in Suffolk until his sudden death in April 2006, aged 66.
In recognition of John's commitment to grass roots football, his family have supported the long-awaited project to provide a new sports facility for children and adults in Lawford, Essex. The family donated £27,000 to Lawford Junior Football Club, kick-starting the £500,000 appeal.
The £27,000 was raised through two tribute dinners in John's memory held at Upton Park, arranged by his son Murray Lyall and hosted by Sir Alex Ferguson.
John's wife Yvonne Lyall said: ''we are pleased that the money raised in John's name meant that after many years of planning, the Pavilion project was able to reach the first hurdle and become a reality. John always supported grass roots football and it seemed fitting to donate the money to such a worthwhile cause.''
John Duchars, Chairman of Lawford Junior Football Club said: "As well as the donation, Lyall family have offered so much support in getting the funding secured, we are honoured to name the building after John Lyall."
The John Lyall Community Sports Pavilion in will provide four secure sports changing rooms and showers, referee facilities, and a purpose built main pavilion for 300 junior boys and girls and around 100 senior players, along with schools and community use. The £500,000 project has been made possible, through grants and support from: The Football Foundation, the Olympic Legacy Fund, Essex FA, Community Initiatives Fund, Biffaward, Lawford Parish Council, Tendring District Council and Tendring Regeneration Partnership.
Find out more information about John Lyall online at lawfordcommunitypavilion.org where you can also read about the history of the club and find out about the pavilion project including the buy-a-brick scheme.
###