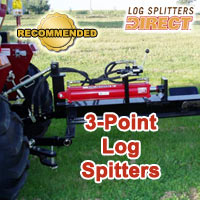 3-point log splitters are designed and built for the outdoor enthusiast because they are powered by machines you already own
Bolingbrook, IL (PRWEB) May 27, 2011
Today LogSplittersDirect.com released its recommendations for the best 3-point log splitters.
"3-point log splitters are designed and built for the outdoor enthusiast because they are powered by machines you already own," said Michael Cosgrove, product expert at Log Splitters Direct. "Three point wood splitters are perfect for farms or large properties with lots of logs to split because you can split anywhere you can take your tractor."
According to Cosgrove, most retailers are loyal to whatever wood splitters are in their store.
LogSplittersDirect.com, however, isn't your ordinary retailer. The online superstore specializes exclusively in log splitters and carries more than 40 different models including electric log splitters, gas log splitters and Power Take-Off (PTO) log splitters from many of the nation's leading brands.
The online retailer combined recent sales history, customer reviews and personal insight to generate their final recommendations.
Once the dust and data settled, only 3 three point hitch log splitters sold by LogSplittersDirect.com were given its prestigious "Recommended" status.
Top 3-Point Log Splitters
Good: Ramsplitter 16-Ton Horizontal 3 Point Tractor Log Splitter - 3PT16H
Better: Ramsplitter 20-Ton Horizontal / Vertical 3 Point Tractor Log Splitter - 3PT20HV
Best: Ramsplitter 20-Ton Horizontal / Vertical 3 Point Tractor Log Splitter w/ PTO Pump - 3PT20PTOHV
In addition, the Cosgrove personally wrote online reviews for each 3-point log splitter, explaining why the company recommended it.
By providing the recommendations and reviews, LogSplittersDirect.com hopes to arm shoppers with enough ammunition to pick the perfect 3-point log splitter for their needs.
Power Equipment Direct operates nine niche online superstores. In addition to LogSplittersDirect.com, the Bolingbrook, IL-based company operates AirCompressorsDirect.com, ElectricGeneratorsDirect.com, PressureWashersDirect.com, SnowBlowersDirect.com, MowersDirect.com, WaterPumpsDirect.com, ChainSawsDirect.com and SumpPumpsDirect.com.
###