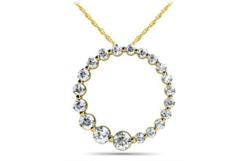 San Diego, CA (PRWEB) May 27, 2011
Online jewelry company, Anjolee announced new pendant diamond necklaces to their selection of high quality diamond necklace, diamond pendant and diamond tennis necklace options. The first new design is the 'Eternal Love Journey Diamond Pendant' STYLE # OSA4. This circle shaped pendant is set with twenty graduating diamonds and hangs from the coordinating gold or platinum chain. Over a half carat of total diamond weight ensures a lot of sparkle. This journey style diamond necklace measures at .67 inch and .13 inches wide.
The next of the new diamond necklaces is the 'Combination Diamond Journey Pendant' STYLE # OSA14 has a circle shape, but also has a center section dividing the two sides of the circle. Diamonds are set in half of the pendant creating a ying-yang effect. Each of the diamonds graduates in size with the largest being in the center of the design. Customization includes the metal type; yellow gold, white gold or platinum, diamond quality and the coordinating chain length. Over half a carat of diamond weight is included in each pendant. The height is .77 inch and the width is .19 inch.
Not your everyday classic tennis necklace, the 'Gemstone Fascination Pendant Necklace' STYLE # OSA1 is a glamorous new gemstone and diamond pendant available in three sizes that include either a .75 center gemstone, 2.50 carat gemstone or a 5 carat gemstone. Each colorful gem is surrounded by small round diamonds In addition to the new pendant necklaces, a variety of diamond strand necklaces such as the popular three prong riviera diamond necklace, four prong graduated diamond necklace and the graduated red carpet diamond necklace.
The 'Diamond Lined Designer Teardrop Pendant' STYLE # SP62 is a gorgeous new teardrop shaped pendant bursting with round prong set diamonds. Three sizes allow full customization of this pendant. Choices include .64, .74 and .98 carats of diamond weight. The pendant hangs perfectly from the gold or platinum chain and is a brilliant accessory for sprucing up a work outfit or a special occasion.
About Anjolee
Anjolee is the leading online retailer of diamond tennis bracelets and fine jewelry. The Company provides an inventive way to shop for jewelry online by providing customers the ability to customize any jewelry design by metal type, diamond quality, size and length. Anjolee offers interactive tools to enhance the consumer shopping experience by allowing each jewelry piece to be viewed in different metal types, 360 degree rotation of each item and a high resolution view. Anjolee has the highest quality standards in the industry and offers thousands of unique fine jewelry designs at prices considerably below traditional retail. Anjolee can be found online at http://www.anjolee.com with additional jewelry information found on the company blog http://www.anjolee.com.blog.
###