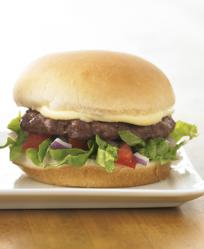 (PRWEB) May 27, 2011
As Indianapolis prepares for the 100th anniversary of the "greatest spectacle in racing," Marsh Supermarkets is planning a spectacle of its own – a car made entirely of cheese. Customers are invited to watch as Sarah "The Cheese Lady" Kaufmann carves an Indy car – driven by a cow, of course – out of nearly 300 pounds of Mullins Wisconsin Cheddar in the days leading up to the race.
Sponsored by DPI Specialty Foods and the Wisconsin Milk Marketing Board, the carving will take place at Marsh Supermarket, 1960 E. Greyhound Pass in Carmel. Kaufmann will be carving and sampling cheese from 9 a.m. to 5 p.m., May 26-28.
Whether you are hosting a race day party at home or tailgating at the track, cheese is sure to please your guests. Wisconsin Cheese will be on sale at all local Marsh locations throughout the month of May, so stock up on your favorite varieties and try these winning recipes:

Recipes are included below courtesy of WMMB.
Pork Tenderloin Sandwich with Wisconsin Gouda
Serves 4
Ingredients:
For the pickled chilies:
2 pounds whole fresh chilies, such as Fresno, jalapeño or Hungarian hot (banana)
Sherry vinegar
Sugar
Kosher salt
2 bay leaves
2 tablespoons coriander seeds
2 tablespoons black peppercorns
1 teaspoon cumin seeds
4 sprigs fresh marjoram
3 garlic cloves
For the sandwiches:
1 pound whole pork tenderloin, grilled for about 10 minutes or roasted* to medium and thinly sliced
8 slices Wisconsin Smoked Cumin Gouda** cheese
4 brioche buns, split
1/2 cup cilantro leaves
Hot sauce of your choice, optional
*To roast the tenderloin: Preheat oven to 375°F. Lightly brush tenderloin with olive or vegetable oil; salt and pepper loin. Place on rack in shallow roasting pan and roast, uncovered, for about 35 minutes, or until meat thermometer registers medium (155°F–160°F).
**If using a plain Smoked Gouda, you may sprinkle a bit of ground cumin for flavor over cheese slices before placing in oven.
Cooking Directions:
Make the pickled the chilies: Divide chilies between two 1-quart jars and cover with water to come to within 1/2 inch of jar rims. Pour water out into a measuring cup. Note the measure and pour off HALF the water, retaining the rest. Replace the discarded water with equal amount of sherry vinegar. Pour water-vinegar mixture into nonreactive saucepan. Add 2 tablespoons sugar and 2 tablespoons salt for each 3 cups of liquid in the saucepan. Add bay leaves, coriander seeds, peppercorns, cumin seeds, marjoram and garlic. Bring to boil over high heat. Reduce heat and simmer pickling liquid 10 minutes. Remove from heat; cool slightly. Pour hot liquid into jars, covering chilies. Screw on lids. Can be refrigerated up to 1 month.
Make the sandwiches: Preheat oven to 350°F. Place 1/4 of the pork slices and 2 Smoked Cumin Gouda cheese slices on each bun bottom. Place on baking sheet along with bun tops on the side. Heat for 2 minutes or until cheese melts. Remove from oven and place a serving of chilies, cilantro and a couple shakes of hot sauce, if using, over the cheese. Place bun tops over. Serve immediately.
"Brick"yard Burger Bites
Makes 12 sliders
Ingredients:
1 pound ground beef
Salt and pepper to taste
12 mini burger buns
1/2 cup lettuce, shredded
1/2 cup tomatoes, diced
1/4 cup onions, diced
6 ounces Wisconsin Brick Cheese Spread, at room temperature*
Cooking Directions:
Preheat oven to 375°F.
Divide beef into 12 equal portions. Form each into a thin patty, 3 1/2 to 4 inches in diameter. Place patties on a broiler pan lightly coated with cooking spray.
Lightly sprinkle patties with salt and pepper. Bake for 10 to 12 minutes, until fully cooked.
Meanwhile, split rolls in half horizontally. Cover bottoms with lettuce, tomatoes and onions.
Spread cut side of tops with Brick spread. Place hot burgers on individual bottoms and replace tops. Serve immediately.
*You may substitute any Wisconsin Cheese Spread.
Buffalo Wings with Wisconsin Blue Cheese Dipping Sauce
Serves 6
Ingredients:
2 1/2 to 3 pounds chicken wings
3 tablespoons vegetable oil
1 tablespoon hot pepper sauce
1 teaspoon paprika
2/3 cup (4 ounces) Wisconsin Blue Cheese, crumbled
2/3 cup sour cream
4 teaspoons white wine vinegar
3 tablespoons green onions, finely chopped, divided
1/2 teaspoon coarsely ground black pepper
1 to 2 tablespoons milk
3 celery stalks, cut into sticks
Cooking Directions:
Preheat broiler. Cut off wing tips; discard. Split wings at joint. Place in 1-gallon re-sealable plastic bag. Combine oil, hot pepper sauce and paprika. Pour over chicken, turning to coat pieces evenly. Marinate while making sauce or refrigerate in marinade until ready to cook.
In small bowl, combine Wisconsin Blue Cheese and sour cream. Stir in vinegar, 2 tablespoons green onions and pepper. Whisk in 1-2 tablespoons milk until sauce is smooth. (Or pulse in food processor.) Sprinkle top with remaining green onions. Refrigerate if not using immediately.
Remove wings from marinade and broil 10-15 minutes, until lightly charred and no longer pink inside, turning occasionally until crisp and cooked through. Remove to platter and sprinkle with a few more dashes of hot pepper sauce, if desired. Serve with the celery sticks and Blue Cheese dipping sauce.
Baked Potato Salad with Wisconsin Aged Cheddar Cheese
Serves 8
Ingredients:
2 pounds red potatoes, washed
2 tablespoons canola oil
4 teaspoons kosher salt, divided
8 ounces (1/2 pound) smoked bacon, diced and cooked crisp, divided
1 cup sour cream
4 green onions, thinly sliced
2 cups (8 ounces) Wisconsin Aged Cheddar Cheese, shredded
1 teaspoon black pepper, freshly ground
Cooking Directions:
Preheat oven to 350°F. Toss potatoes, canola oil and 2 teaspoons kosher salt in large bowl. Place potatoes on rimmed baking sheet, and bake until potatoes are tender, about 20 to 30 minutes, depending on size. Meanwhile, fry bacon until crisp. Drain on paper towels. Set aside.
When potatoes are baked and cool enough to handle, quarter them or cut in large chunks and place in large mixing bowl. Add bacon (reserving 1/3 cup), sour cream, green onions and Wisconsin Aged Cheddar. Season with remaining kosher salt and black pepper. Fold all ingredients carefully, being careful to leave the potatoes chunky. Scatter reserved bacon over. Best served warm.
###