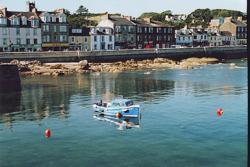 Being designated as the smallest cathedral city in the country would be a tremendous marketing asset and would do wonders for the local economy
(PRWEB UK) 30 May 2011
It's little more than a seafront strip with a café, an amusement arcade and a bar but Millport, the only town on the tiny isle of Great Cumbrae, could become Britain's smallest city.
The hamlet, located four miles from the ferry slipway in Largs, in North Ayrshire, is considering launching a bid for city status when a competition is next held by the monarch.
It plans to use the move to assert its claim to house the country's smallest Cathedral. The Cathedral of the Isles, built in 1875, has a nave measuring 40ft by 20ft and seats just 70 people.
If successful Millport, whose population is 1200, could promote itself as Britain's smallest cathedral city.
That distinction is currently held by St David's, in Pembrokeshire, which has a population of 2000. St Asaphs, in Llanelwy, Denbighshire, which seats a maximum of 500, is officially recognised as the smallest ancient Cathedral in the UK.
The Queen is currently considering the latest round of bids from towns applying for city status. The winners will be announced next year to coincide with her diamond jubilee.
Among those seeking the honour are Bournemouth, Luton, Milton Keynes, Middlesbrough, Medway, Reading, Bolton, Swindon, Chelmsford, Stockport, Gateshead, Ballymena, Guildford, Southend-on-sea, Ipswich, Wrexham, Croydon and St Austell.
Perth is the only Scottish town included in the list. In the last competition, held to mark the Queen's golden jubilee in 2002, Inverness was successful in being elevated from a town to a city.
While submitting a bid is low cost, previous winners have reported a boost in investment, a rise in jobs, improved profile and reputation, and an increase in their opportunity to bid for additional and external sources of funding.
Millport is too late to be included in the latest round – bids closed on Friday – but is considering launching a challenge when the next competition is held.
Tourism is an important part of the North Ayrshire economy and some members of the industry believe the area is not making the most of its assets.
The Cathedral of the Isles, designed by William Butterfield, the architect, was commissioned by the sixth Earl of Glasgow, whose great, great grandson, Patrick Boyle, is now a trustee.
Boyle, who owns Kelburn Castle and Country Centre, which overlooks Great Cumbrae, said it was time the building was officially recognised. He is seeking a meeting with local officials and residents to discuss launching a bid for city status and has gained support from local councillors and officials.
"The cathedral of the Isles is the smallest cathedral in Britain and probably in Europe," he said.
"Being designated as the smallest cathedral city in the country would be a tremendous marketing asset and would do wonders for the local economy. It's a fantastic building and I would like to see it being visited and viewed by many more people."
Alex Gallagher, councillor for the North Coast and Cumbraes, said: I think everyone knows the Cathedral is a wonderful building and a great asset to Cumbrae. It would be tremendous recognition for it to gain entry in the Guinness Book of Records.
"It would also be great for Millport to be named as the smallest cathedral city in Britain and I would certainly lend my support to that."
David Todd, warden of the Cathedral, said he welcomed the proposal which he hoped would help to raise the profile of the town.
"Anything that gets people talking about Millport is a good idea. There are those who will say that, clearly, Millport is not a city and it's difficult to argue but it's harmless and, who knows, it could be successful."
The association between the presence of a cathedral and city status dates back to the 1540s when Henry VIII, having newly founded the Church of England, created six cathedral towns and gave them all city status by letters patent...
Until the late 19th Century only towns with Anglican cathedrals were recognised as "cathedral cities". In Scotland the Scottish Episcopal Church is part of the Anglican Communion and the cathedrals are referred to as Episcopal Cathedrals
There are 18 cities without an Anglican (or Scottish Episcopal) cathedral and 16 towns which have an Anglican or (Scottish Episcopal) cathedral but do not have city status.
The link was broken in the 1880s when it was decided that Belfast and Birmingham could become cities without cathedrals. Today city status is granted by the monarch.
Other small cities include Wells in Somerset with a population of 10,000 and Ely in Cambridgeshire with a population of around 14,000.
Notes to Editors:

Kelburn Castle has been home to the Boyle family since the 13th Century and the Earls of Glasgow since the 18th Century
The estate's facilities include The Secret Forest that includes a gingerbread house, a secret grotto, a giant's castle and a crocodile swamp.
During school holidays it runs daily family fun events with seasonal themes and there are ranger guided walks and environmental themed events, provided with funding from Scottish Natural Heritage
It hosts a number of annual events including a Brazilian festival, a music festival featuring emerging bands and a Country Show. The estate has been used by event organisers to host events including Scout and Guide jamborees and an annual Shakespeare production by the Charterhouse Theatre Company.
It operates educational services, hosting trips from parties of pupils from primary, secondary and special schools.
There are plans to host corporate events, private dinners and weddings at the Century castle, occupied by the earl's family, and to market the estate as a film location. A pavilion, currently being renovated, will also provide a venue for private functions.
The address is Kelburn Country Estate, Fairlie, Largs, KA29 OBE. Tel: 01475 568685
For further information and high resolution photography, contact: Carlos Alba on 0141 637 6399 or 07880 505647.
Email: carlos(at)carlosalbamedia(dot)co(dot)uk
# # #