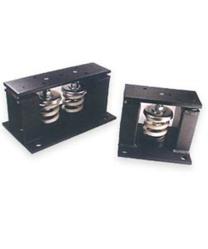 We want our customers to come to us with confidence, knowing they will have access to the best possible solutions for their specific application.
Hatfield, PA (PRWEB) May 31, 2011
Isotech Inc., a supplier of precision linear motion products, recently expanded their vibration mounts and isolators section on the website to meet the needs of customers in various industries that require vibration or shock reduction.
Isotech expanded their website to include detailed sections on vibration mounts and isolators, including elastomer mounts, pad mounts, plate mounts, seismic mounts, spring mount isolators, stud mounts, and wire rope mounts. These vibration mounts and isolators can be utilized in varying applications, including military, defense, aerospace, marine, off-road vehicles, electronics, and power generation.
"With this web update, customers now can access model numbers, engineering specifications, and request quotes for these products right on our website," says Isotech's President Joe Casillo. "We want our customers to come to us with confidence, knowing they will have access to the best possible solutions for their specific application."
For usage in air compressors to electronic circuit boards, vibration mounts and pads are used to limit the transmission of structure-borne vibration and impacts. These products reduce equipment malfunctions, extend equipment life, and lower or eradicate vibration and audible noise.
Isotech has carefully classified different mounts and their preferred applications on their website so customers can easily see which vibration mount will work best for their application. "We can provide accurate pricing for their application if they fill out the simple form," says Casillo.
The mounts offered by Isotech meet quality guidelines recommended or mandated in some areas. With the continuous push for ever more stringent life-safety related building codes, it has become commonplace for historically non-seismic regions of the country to require seismic restraint of mechanical, electrical and plumbing equipment. Isotech seismic rated mounts and restraints will control the motion of equipment, piping, and ductwork during a seismic event and are IBC compliant. Additionally, Isotech's elastomeric mounts and accessories conform to the MIL-I-45205 Quality Standard.
Additionally, these vibration mounts and isolator products are both available "off the shelf" and custom designed to meet specific mounting provisions and load-bearing requirements. Mount stiffness, shape, and compound specifications can be engineered to meet virtually any application.
Isotech has many vibration isolation products in stock and ready for shipment. Custom configurations are usually available to ship within three weeks. Call Isotech at 800-314-3332 or visit http://www.isotechinc.com for more information or to speak with a product specialist for assistance.
About Isotech Inc.
Isotech Inc., specializes in the supply of OEM, linear motion control, and proprietary mechanical and electromechanical products including deep drawing and hydroforming, zinc aluminum castings, ball and crossed roller slides and tables, linear bushings and shafting, pneumatic, micrometer and motorized tables, linear actuators, fasteners, air cylinders, dashpots/actuators, noise control materials, vibration mounts and isolators, laser marking systems and automation software training.
###