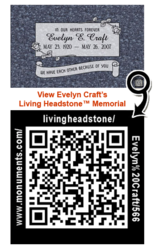 "Living Headstone™ memorials will unlock and preserve each unique story for future generations."
-David Quiring, President
Seattle, WA (PRWEB) May 27, 2011
Cemetery headstones have not changed appreciably in the past 5,000 years… until now. Quiring Monuments is pleased to introduce an innovative new approach to memorialization.
For more information watch our new "Living Headstone ™" Memorial Video.
Today our mobile population has further increased the separation of families worldwide. What hasn't changed over the centuries though is our desire to keep the memory of loved ones alive for generations yet to come.
Quiring has created a new type of headstone which connects people regardless of where they reside. Our "Living Headstone™" memorial blends the timeless traditional value of granite headstones with the newest technology available, to provide an interactive "living" memorial legacy for future generations. "Each grave in the cemetery holds unique stories that are valuable to our society both emotionally and historically," says owner David Quiring. "Living Headstone™" memorials will unlock and preserve these stories for future generations."
With the use of QR codes on headstones, Quiring makes it possible for friends and family to create, edit, and publish "archive sites" or Web pages to commemorate their loved ones. Similar to a personal Facebook page, a "Living Headstone™" archive site contains information you and friends can add about your loved one, such as: an obituary, family heritage and history, photos, video and audio clips, comments by friends and relatives and even a map to locate the memorial in the cemetery.
A QR code on the headstone acts as a link which enables users of smart phones and mobile tablets to scan and automatically connect to a personalized website. It can be viewed on the phone or mobile tablet as visitors wander through the cemetery or by simply typing in a unique web address into your computer internet browser. Although others may view the information, only visitors authorized by the family administrator can post information on the Web page.
This link can be applied to new or existing cemetery headstones, mausoleum shutters, cremation urns, garden benches or as an addition to a public memorial. In situations where cremated remains were previously scattered, a miniature memorial plaque with the digital link – QR code is available for display in your home or garden or even on a field stone in a Green Burial Cemetery.
For more information please visit http://www.monuments.com.
###