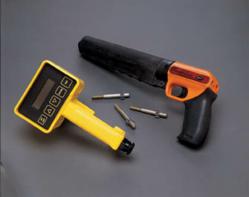 "It is very exciting to have our equipment feature on such an important documentary as Inspector America" says Michael Hoag President of James Instruments Inc.
(PRWEB) May 31, 2011
James Instruments Inc. manufacturer of the world's most advanced Non Destructive Test Equipment for construction materials is pleased to announce the demonstration of their equipment on Inspector America currently broadcast on the History Channel. This demonstration of the test method over other test methods shows unequivocally the superiority of the test method for testing concrete compressive strength on existing structures in situ.
"It is very exciting to have our equipment feature on such an important documentary as Inspector America," says Michael Hoag President of James Instruments Inc. He continues "our nation's infrastructure is one of the significant challenges of our generation and at James Instruments we know we can overcome these challenges with modern technology, and of course the talented people of the construction community."
The Windsor Probe™ Test System is a Non Destructive Test System for Concrete Compressive Strength in the field. Safe, Quick, and Simple to use it is the most effective method of Concrete Compressive Strength Testing on Site. The System performs equally well on standard and high performance concrete. Conforms to ASTM C-805 and other International Standards.
Timothy Galarnyk, an infrastructure safety inspector with over 35 years of experience, hosts INSPECTOR AMERICA. Galarnyk's initial sweep takes him to six American locations that have infrastructure challenges. He uses the tools of his trade to evaluate the structures, gauge dangers and offer opinions on how to deal with it. Galarnyk also highlights the good news and positive projects in the area. INSPECTOR AMERICA is a television series produced by Original Productions and distributed and shown on History Chanel. The show premiered on April 17, 2011.
James Instruments specalises in Non-Destructive testing equipment for concrete and other construction materials. Central to the improvement of the concrete infrastructure are tools that evaluate the condition of existing construction. Destructive and non-destructive testing (NDT) techniques are applied. Destructive tests can provide direct information, but are relatively expensive, time-consuming and cause damage to the structure. Destructive test results often cannot be evaluated using statistical approaches because the number of locations in the structure that can be tested without damage to the structure is limited. On the other hand, NDT techniques are relatively inexpensive to apply, and they can detect, localize, and characterize flaws and damage in concrete structures without leaving any undesirable discontinuities or causing damage to concrete members.
James Instruments Inc. is the leading manufacturer of non-destructive test equipment for construction materials, specifically concrete, ceramic, wood and other coarse grained materials. We supply the instruments that measure and analyze strength, structure, corrosion and moisture in concrete and other construction materials. And more. James Instruments -- rugged, quality equipment for field use -- backed by factory service and an ongoing program of research and development.
For more information regarding this or other non destructive testing equipment for construction materials you can visit http://www.ndtjames.com or email info(at)ndtjames(dot)com or europe(at)ndtjames(dot)com.
# # #