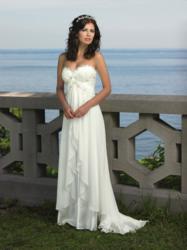 Most couples spend well over $30,000 for a traditional hall wedding
Port Jefferson Station, NY (PRWEB) May 31, 2011
In today's economy, who wants to be put in debt over a wedding? Many couples now are choosing Destination Weddings. Destination Weddings can be on a beach, on a boat, on a tropical island, or on the ski slopes! More and more couples are choosing to have Destination Weddings over the traditional wedding in a large hall. Destination Weddings can be so much more than just the normal 4-5 hours of dancing, eating a socializing. Instead, the couple and their closest family and friends can have an unforgettable weekend getaway, or vacation together.
Most couples spend well over $30,000 for a traditional hall wedding with approximately 200+ guests. Instead the happy couple can spend $10,000 to get married in the sun and sand with their friends and family. "With the prices of homes these days, we can use the money we saved towards our first home!" said bride to be, Andrea Watters.
With so many Destination Weddings becoming popular these days, Magic Moments specialty dress store offers a wonderful selection of beautiful Destination Wedding gowns from top name designers. Elia Rubinstein, owner of Magic Moments, stated that, "The designers are creating more of these destination style dresses." Destination Wedding dresses can also be more affordable that the traditional gowns, depending on the fabric and detail.
Top Designers like Tony Bowls, by Mon Cheri, offers the Tony Bowls Whites Collection. Classic designs of flowing fabrics, some with one shoulder, make these styles wonderful for the tropics. Destinations by Mon Cheri also offers romantic yet modern styles that are classic yet affordable. Forever Yours Bridal creates their destination bridal gowns with elegant styling and fabrics that flow as the bride glides through her perfect day.
There are Destination Wedding planners that can help the couple find the right price and location. Planners are often associated with travel agents who can help them make the travel, and hotel plans. Magic Moments helps hundreds of brides find their perfect Destination Wedding gowns, and will also help find the perfect Destination Bridesmaid dresses too! Destination Weddings; a unique way to start the rest of your life together and a wedding everyone will remember forever!
Magic Moments is an authorized retailer of designer dresses, specializing in Brides, Bridesmaids, Flower Girls, Mother of the Bride or Groom, Wedding Guests, or any special occasion. Located in Port Jefferson Station NY, Magic Moments can also be found on the World Wide Web serving customers throughout the United States, Europe, Asia and Japan.
###