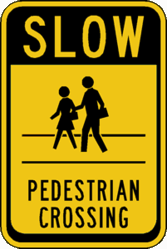 "Businesses and road departments should do their part to post appropriate parking signs, but as residents and customers, you can do something, too," said Bill Quattrochi, Owner, ParkingSignCorner.com
Selkirk, NY (PRWEB) May 27, 2011
ParkingSignCorner.com reports that the Insurance Institute for Highway Safety finds that 20% of all collisions happen not on speeding thruways, but in parking lots. Numerous incidents, such as a Hillsboro, Oregon pedestrian accident where a car collided with a jogging pedestrian in a parking lot, have caused the Parking Signs company to examine parking lot signage problems and issue safety guidelines.
"People are leading busier lives than they ever have before, and it's no surprise increased collisions in seemingly safe areas like a parking lot are cropping up. As people, we need to be on our toes, and as businesses, we need to help protect our customers with proper signage," asserts Bill Quattrochi, Owner, ParkingSignCorner.com.
Like Columbus, Indiana's proactive approach to pedestrian safety in installing flashing crosswalk signs to alert drivers of busy crosswalks; residents, roadways, and businesses can work to promote driver and pedestrian safety. Safe Kids USA emphasizes the "look left, look right" rule before crossing streets, important for both kids and adults. WalkingInfo.org asserts that pedestrians and drivers should never assume that either will stop.
"Businesses and road departments should do their part to post appropriate parking signs, but as residents and customers, you can do something, too. Bring the issue up at community meetings, and be persistent. Create a petition. Write your state representatives. Putting in the time now can ultimately save a life down the road," explains Quattrochi.
Parking signs are within your reach – visit ParkingSignCorner.com for an array of Parking Signs and common parking lot signage to help increase the safety of your parking lot.
About ParkingSignCorner.com:
ParkingSignCorner.com is the online counterpart of CQ Traffic Control Products. The traffic sign company strives to continually meet the needs of government agencies, municipalities, contractors, businesses, and even individuals searching for parking signs to add to their area's safety. They emphasize a wide selection of Slow Signs, Handicap Parking Signs, and No Parking Signs to fulfill a variety of parking sign needs.
###