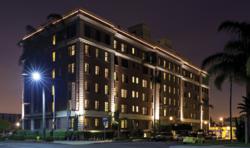 Northbrook, IL (PRWEB) May 31, 2011
Shell Vacations, featuring a collection of 25 unique resorts in major travel destinations throughout North America, today announced the addition of San Diego's iconic Park Manor Suites to its portfolio of properties. As part of the acquisition, the company also announced it will officially change the name to Inn at the Park in an effort to maintain brand recognition with other similar properties within the Shell Vacations collection. Inn at the Park is also the name of one of the hotel's restaurants.
The historic hotel is situated steps away from the world famous Balboa Park in the Hillcrest community and is the premier, all-suite boutique hotel in the city offering easy access to the world-renowned San Diego Zoo, the Old Globe Theatre, 15 museums, beautiful gardens and the city's best performing arts venues.
"After more than five years of searching in the San Diego area, we are delighted to have found our dream property. The ambiance, location and timeless appeal of Inn at the Park are ideal for our family of customers both current and future," says Sheldon H. Ginsburg, Chairman of Shell Vacations LLC.
"We are very pleased and excited to announce the acquisition and addition of this historic hotel into the Shell Vacations' portfolio. Inn at the Park will be a signature location for our Company and we look forward to serving its customers and guests with the quality and service our Company is known for," says Tracy L. Sherles, President and COO of Shell Vacations LLC.
With a reputation for superior service, gorgeous neo-renaissance architecture and home-away-from-home amenities, the Inn at the Park is an ideal addition to the Shell Vacations family of hotels and resorts that are designed to accommodate leisure vacations, business trips and everything in between.
The classic hotel features a combination of studio, one and two bedroom suites, ranging in size from 525 to 1,000 square feet, with 9-foot ceilings and large sage windows with postcard-picture views of the city below. Some units have balconies for enjoying the famed San Diego weather.
The property offers two dining outlets popular with guests and locals.Inn at the Park restaurant is located on the street level and is imbued with European ambiance, while serving fresh regional American cuisine including the finest seafood that San Diego is known for. Open seven nights a week, it boasts live entertainment at the lively piano bar and a popular Karaoke night.
Located on the awe-inspiring seventh floor Penthouse, Top of the Park restaurant offers panoramic views of Balboa Park, downtown and San Diego Harbor and is open weekdays for "lunch with a view." Complimentary Deluxe Continental breakfast is served to hotel guests in the Penthouse each morning and the site is also host to some of San Diego's most dazzling weddings and special event celebrations.
Designed by Frank P. Allen in the Italian Renaissance style, the hotel is closely tied to San Diego civic history. The red brick building was originally built as an apartment complex to house the architect and his family. Frank P. Allen is also known for his design of the stately Cabrillo Bridge. In 1991 it was named a Historic Site of San Diego. Keeping the original design footprint of the suites, the hotel also boasts one of the most grand and detailed lobbies in the city.
In addition to leisure travel, the Inn at the Park suites are also ideal for extended business stays offering Wi-Fi access, parking and a close proximity to major business and medical hubs such as Scripps Mercy Hospital, UCSD Medical Center and the many bio-tech and communications firms that call San Diego home.
"We simply couldn't be happier or more enthusiastic about our acquisition of Inn at the Park. We look forward to embracing the staff and ensuring they feel very much a part of our employee family. We pride ourselves in our commitment to every member of our employee team as well as to the quality service offered to every guest at Shell Vacations hotels and resorts," says Susan C. Kelley, President Shell Vacations Club and Hospitality.
About Shell Vacations:
Shell Vacations offers a collection of 25 resorts and hotels ideal for family vacations, romantic getaways, retreats, reunions and business trips. Visitors may stay at hotels and resorts in popular destinations in the U.S., Mexico and Canada from San Francisco to Whistler. Shell Vacations LLC, is a premier developer of upscale vacation ownership resorts. For more information, please visit http://www.ShellVacationsClub.com or http://www.ShellHospitality.com.
###