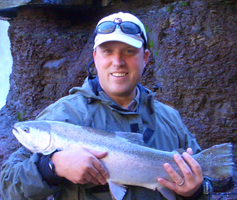 Let's Catch Fish!
Rochester, NY (PRWEB) May 29, 2011
Captain Ken Strimple to re-open Bayside Boat & Tackle on Empire Blvd.
Bayside Boat and Tackle is pleased to welcome the new management team and owner Captain Ken Strimple, (tournament bass fisherman who fished on the ESPN Northern Tour) to reopen and run the Bayside Boat and Tackle Shop. Stop in and meet the team
"I am very excited to share my passion for fishing and my vision for Irondequoit Bay as a recreational destination," said Strimple. "Our plans to expand include adding more pontoon boats, a fly fishing shop, and café, which we hope will be a draw for residents of Penfield, Webster, and greater Rochester. We have a full-service tackle shop, live bait, boat rentals, boat repair shop, and will be adding more products and services each week."
Captain Ken's fishing site, http://www.Letscatchfish.com has been devoted to encouraging younger people to discover fishing. PRO staff will be on site to assist with casting lessons, share stories and be available for questions each weekend ALL year round. "We hope it will become a place fishing enthusiasts of all ages and skill will seek out to share some big fish stories or a cup of coffee" states Captain Ken.
Anglers can join the "L.C.F FISHING CLUB" and receive a 10% discount on all bait, tackle, charter services and fishing boat or pontoon boat rentals all year round.
"Bayside will be adding a skating rink this winter were visitors can enjoys mint hot chocolates and Music on the Bay each Friday and Saturday evenings. "We will also have a full service ice fishing center for all those cold weather enthusiasts. How cool is that?" added Captain Ken.
"Please stop in and introduce yourself to our staff, let us know exactly what you need, learn a bit, share a story, watch some Local fly tying experts (join our mailing list), hear a great story or find a new friend." added Patrick …. From the LCF Pro Staff
"We are determined to create a family experience like no other. Irondequoit Bay is an untapped resource for water sports", said Captain Ken, "the kids will love it."
You may have attended one of their seminars at Gander Mountain to learn about "bumping for Brown Trout or how to catch big salmon. Now you can experience seminars at their shop at 1350 Empire Blvd., on the south shore of the Irondequoit Bay.
Bayside provides fishing charters for the Northern Hemisphere's most amazing giant brown trout steelhead or King Salmon. A trip of a life time (at local rates)
See their Facebook page http://www.facebook.com/pages/Lets-Catch-Fish/190636278477
Or their fishing website http://www.letscatchfish.net/ for more information
The bait shop, boat rentals and tackle shop http://www.baysideboatandtackle.com/
No matter what time of year the Rochester region is a treasure for serious anglers
Bayside has experts on staff to assist clients with selecting the right equipment, lures, bait and tackle for local fishing in any conditions. The region hosts some of the best fall steelhead and giant brown trout runs chasing King salmon (Captain has a secret sauce for eggs) but the summer fishing in the bay is great. You can catch large and smallmouth bass, big pike, perch and more. In the winter it can be one of the best choices for ice fishing.
The remodeled store carries a full line of lures, live bait and fishing supplies; everything you need for a day on the water.
Captain Ken adds, "Our staff is seasoned, friendly, professional, and familiar with the local fishing scene. We can help you find the 'hot spots.'"
Get out on the Bay with family and friends this summer. Pack a picnic and rent a fishing or pontoon boat for the day or the week. This summer expect to see some additional services
Sun set cruises on the bay -- Jet ski rentals --Fishing tournaments -- Water skiing, wake boarding and tubing --New Picnic area -- Ice cream and snack shop -- New docks -- New Fishing dock and additional boats added
Located conveniently on Irondequoit Bay at 1350 Empire Boulevard, Bayside Boat and Tackle is open from 6 AM to 9PM daily. Call (585) 224-8289 for information or reservations.
# # #