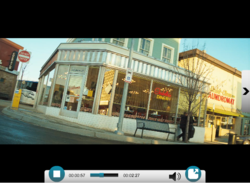 After honing our skills in live streaming, DaCast is now aiming to offer a true all-in-one platform for streaming
San Francisco, CA (PRWEB) May 31, 2011
DaCast, the first fully integrated, self-service platform for live streaming, today announced the introduction of Video on Demand (VOD) functionality to its online video services.
"After honing our skills in live streaming, DaCast is now aiming to offer a true all-in-one platform for streaming," said Stephane Roulland, CEO of DaCast. "By adding support for previously created content, users can now stream any type of video and audio they want from a single account. They can leverage the easy set up to quickly start streaming and monetizing their existing media content."
This new feature lets broadcasters create premium content from existing media libraries or develop archives of previous live events. This can then be streamed from Facebook or traditional websites in high definition quality. Additional functionality, including chat, is also available to provide an engaging experience, all from within a customizable media player.
VOD content, like live streaming over the service, can be leveraged with rich monetization features that are a standard part of the product. Already negotiated ads can be attached to provide an easy way to generate revenue, while broadcasters can also utilize pay-per-view and subscription features.
By using the company's Pay-in-Play payment system, VOD content can be purchased directly within the media player for a quick and seamless experience. Channels can also be bundled, providing a large archive of video and audio content that can be priced by content owners any way they choose.
Signing up with DaCast is free, with no commitments or monthly fees, and new sign ups have instant access to VOD capabilities. Through a powerful encoding service, the system supports all mainstream media file types as well. Furthermore, the company does not charge any storage fees for uploaded media content which is highly unusual in the market today.
VOD capability is available now over the service for both new and existing users.
About DaCast
DaCast specializes in delivering an easy to use monetization platform for live streaming. The company is headquartered in San Francisco, California with a European office in Paris, France. For additional information, please visit http://www.dacast.com.
###