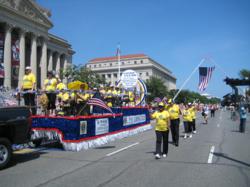 Celebrated radio host Joe "The Black Eagle" Madison joins the Lions Clubs float!"
Washington DC (PRWEB) May 28, 2011
SiriusXM radio host, Joe "The Black Eagle" Madison and Lions Clubs Past International President Clement "Clem" Kusiak will join fellow Lions from Washington DC, Virginia, Maryland and Delaware as they march at this year's National Memorial Day Parade.
Madison and Kusiak will be joined by their spouses on the Lions Clubs float down Constitution Ave on Memorial Day, May 30, 2011. They will be accompanied by a dozen honored veterans on the float. The float will follow a column of purple Lions Clubs banners representing all the clubs who have members marching in the parade.
Madison is the host of the weekday morning coast-to-coast show on Sirius/XM Channel 128 "The Power" every Monday - Friday, 6am to 10am ET and WOL-AM in Washington DC. He is recognized as a human and civil rights activist, abolitionist against slavery in Africa, television commentator, columnist and lecturer.
Kusiak, of Linthicum, MD, is the permanent parade marshal of the Lion Delegation of the National Memorial Day Parade. He is the founder of the Kusiak Lions Youth Foundation that empowers young people to help themselves and others through activities supported by local Lions Clubs and their communities. Kusiak is the highest-ranking member of the regional international family of Lions in the national capital area.
This is the third year Lions Clubs have participated in the parade. In past years, over 200 Lions from Virginia, Maryland, Delaware and the District of Columbia have marched in the National Memorial Day Parade.
During the march, the Lions will collect used eyeglasses to recycle and redeploy to individuals in developing nations. The Lions Community Outreach mobile health bus located near 7th and Constitution will also collect eyeglasses.
Lion veterans will be wearing sashes in recognition of their years of service. These Lions have proved themselves heroes on the battlegrounds, in the air, on the sea, and they continue to serve their communities today.
Please show your support for our veterans by cheering them on at this year's National Memorial Day Parade and don't forget to recycle your used glasses.
###