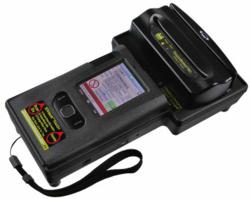 This ID Scanner goes beyond age verification by adding powerful customer relationship management capabilities.
Bronxville, NY (PRWEB) May 28, 2011
Tokenworks®' new IDVisor® Touch™ ID Scanner solution is its most advanced ID Checker and identity verification device to date. Building upon Tokenworks' industry-leading IDVisor® ID scanning platform, the new product offers integrated customer relationship management (CRM) and membership management features.
The new scanner is loaded with important features requested by bars, nightclubs, and other venues that wish to manage customer relationships, in addition to verifying age for alcohol and/or tobacco sales. The IDVisor® Touch™ boasts many industry-first innovations: visit counter for each customer, email and phone capture, and advanced tagging for custom functions. It's the ideal solution for nightclubs and bars that offer membership programs.
Rock-Solid IDVisor Touch™ Hardware
The IDVisor® Touch™ is a handheld ID Reader with an easy-to-use, color touch screen. It is the first scanner to integrate quad band phone, Wi-Fi and Bluetooth technologies, which allows for easy connectivity between devices. The unit works right out of the box with Bluetooth keyboards for extended data input on the go.
Built-in rechargeable Li-Ion batteries charge quickly and offer a full night of scans. Simply plug it in to charge, and use without worries. There are no AA batteries to buy or batteries packs to swap out.
The device is housed in a ruggedized case based on Tokenworks' previous successful design. It is engineered to withstand a 4-foot drop onto concrete. It also includes a protective vinyl covering to ward off most common splashes and spills in bars.
The ID Checker reads drivers' licenses and state IDs from all 50 US states, including Georgia (from November 2009 onward). It also reads Canadian drivers' licenses (including Quebec since February 2009), and US military IDs. It uses the same barcode scanner and swipe magnetic stripe reader currently being deployed in US police cruisers. The scans are fast and accurate, and do not have any of the drawbacks associated with Optical Character Recognition (OCR) based ID scanning technology.
Integrated CRM Features: Profiles, Custom Tagging and Search
The ID Reader software has been completely redesigned to incorporate customer relationship management (CRM) and membership management features. Moving beyond the confines of simply scanning and recording IDs, the new ID Scanner adds a number of features to track customer patronage, manage membership and rewards programs, store additional customer information like email and phone, set up custom tags for VIP/Banned and searchable database using simple text queries.
The device reports the number of visits for each customer on the main screen, which helps to quickly identify new and frequent visitors. A historical record of visit information for each client is also available in the database. On system tagging allows the user to ban somebody right at door, or add him or her to a special VIP or customer list. Custom tags or groups can be defined directly on the ID Checker, or imported from an Excel compatible comma separated value (CSV) file. Tags can be given expiration dates, transforming the ID Scanner into a full-fledged membership system. Use custom tags to create membership levels with unique expiration dates, or ban someone for 3 months by assigning specific tags to his or her profile.
Users also have the ability to capture phone and email information directly on the touch screen keyboard. Data entry is enhanced with a convenient finger-ready 9-digit keypad for phone numbers and a list of common domains for email addresses (@gmail.com, @hotmail.com, etc.). Adding customer contact information helps create powerful out-bound marketing programs like email and text message blasts. An Opt-In Privacy feature identifies which customers want to be included on email or text messaging lists. Traditional license information like name, address and date of birth are stored automatically when the drivers license is swiped.
Contact information and tags can be added when the scan is taken, or by searching for a previous scan and adding the tag later. A Guest List feature allows users to import a list of guests from an Excel compatible CSV file and record entry at the door without having to previously scan guest licenses. Dual Action VIP/Banned Lists can be set to trigger with a certain ID card or last name, allowing users to migrate old lists into the device. All together, the multiple list management features on the ID Checker allow promoters and bouncers to know exactly who is entering their club or event.
Industry-Leading ID Scanning Technology
In addition to integrated CRM features, the IDVisor® Touch™ offers enhanced core ID Scanner capabilities. A new Scan Count feature shows the total number of scans for the night and indicates how many people have entered the venue. Voice Warnings and Vibrating Warnings allow the user to customize how the scanner alerts when underage, expired, banned, or rescanned IDs are swiped. Flexible Age Thresholds, from 18 to 45 years, are available for underage alcohol or tobacco warnings.
Scans are stored in an encrypted SQL database that can hold the last 65,000 scans in memory. Various options allow clubs to customize how long data is saved on the ID Scanner, making the unit fully compliant with states that have ID Scanner data retention limitations, like Utah and Nebraska. Data can be auto-deleted after 1-day, 7-days or 30-days, for example.
Scan data and customer lists can be easily exported to a CSV file right on drivers license scanner, which can then be copied to a computer for use in Excel or any other spreadsheet program. No desktop software is required for transfer, as the device becomes a USB drive when connected to a PC.
Advanced Security Features
The ID Scanner has built-in security to protect sensitive customer information. Data storage protected by strong database encryption that blocks unauthorized access. PIN code access can also be enabled to configure the id scanner. This can restrict, for example, the operator from accessing customer information, block them from searching the database, or reconfiguring any of the device settings.
Top-Tier Customer Support and Training Videos
Tokenworks provides free telephone support to all ID Scanner owners. To answer common questions and acquaint the user with features, helpful Support and Training Videos are pre-loaded directly into the IDVisor® Touch™, which in a matter of minutes can familiarize a new user to its basic operation. The ID Scanner ships with a quick-start guide, USB cable and charging cable.
Engineered and Manufactured in the United States
Charles Cagliostro, President of Tokenworks, Inc., asserts that, "This ID Scanner is the result of more than one year of Research and Development and is our most advanced product to date. It was developed in house by US engineers and will be supported by those same engineers. We are proud to use US engineering and manufacturing resources. We design, develop, manufacture and support our products here in Bronxville, NY."
Pricing and Upgrade Program
For existing customers with IDVisor® Z22 Mobile products, Tokenworks is offering an upgrade to the IDVisor® Touch™ for $795 – return your old ID Scanner to Tokenworks and they will upgrade it to the new system. This offer is good till 6/30/2011. New IDVisor® Touch™ units will retail for $1,495.
About Tokenworks
Founded in 1998, Tokenworks provides a full-range of magnetic stripe and barcode ID scanners for age verification, access control and lead capture. Tokenworks is located in Bronxville, New York and sells across the United States and Canada. Visit http://www.idscanner.com to learn more or buy online. 1-800-574-5034 / info(at)tokenworks(dot)com
###