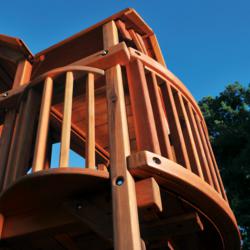 100% of our redwood comes from sustainable forests in California.
Raleigh, NC (PRWEB) May 31, 2011
Fifty swing set retailers weren't playing around when they recently climbed aboard Woodplay, the swing sets brand known industry-wide since 1975 as the "Original Redwood Playset Company."
Why the big switch to Woodplay swing sets? In part, call it the home field advantage. With a manufacturing facility located in Raleigh, NC, Woodplay is committed to supplying a domestic product. And further, the company's commitment to domestic production extends to the use of materials. "Over 90% of the lumber used in Woodplay wooden swing sets is redwood. And, since 2010, 100% of our redwood comes from sustainable forests in California," explains Woodplay Product Manager Tom Ellingson. Botanically, California Redwood is one of the fastest-growing timber species on the planet. This naturally inherent advanced growth, combined with the environmentally responsible practices of Woodplay's timber provider, help ensure the sustainability of domestic redwood on into perpetuity.
Tom Ellingson confirms how deeply rooted the commitment of its supplier to the environment is: "Our redwood supplier in California is so supportive of habitat conservation, their efforts have been recognized by the U.S. Fish and Wildlife Service."
What makes domestic redwood the right wood for backyard swing sets all across America? The California Redwood timber species Woodplay uses is not only sustainable but also naturally resistant to insects and decay. And it's the healthy choice for children and pets: domestic redwood requires no dangerous chemical preservatives (unlike certain wood species that are pressure treated to artificially extend life). "Woodplay dealers respond positively to domestic quality and so do parents investing in superior wooden swing sets," notes Ellingson. He adds, "The remarkable strength of redwood offers the long lasting durability families deserve." The exceptional strength of California redwood plays another key role in attracting dealers and parents to the Woodplay brand. Ellingson states, "Our structures are safe for heavy-duty use and kids of all sizes—including fun-loving, former linebacker dads," He also points out, "The U.S. Consumer Product Safety Commission (CPSC) recommends natural wood, like redwood, for outdoor swing sets."
With the sustainable strength of domestic redwood bringing so many dealers to the Woodplay brand, Tom Ellingson sees a bright future for everyone: "Woodplay swing sets made from California redwood will be enjoyed for years to come, and so will the beauty of the California redwood forests."
Visit http://www.swingsets.com for more information and to view Woodplay's swing sets.
###