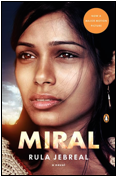 (PRWEB) May 28, 2011
Rula Jebreal, an award-winning Italo-Palestinian journalist specializing in foreign affairs and immigration rights issues, is garnering international acclaim for her riveting debut novel, MIRAL: A Novel (Penguin Paperback Original; ISBN: 978-0-143-11619-6; On-Sale: November 3, 2010; $15.00), recently released as a major motion picture directed by Julian Schnabel.
Based in part on Rula Jebreal's childhood spent in East Jerusalem, MIRAL paints a stunning portrait of personal and political conflict spanning forty years.
PRAISE FOR MIRAL
"Miral tells a gripping story with nuanced characters and historical context that thoroughly humanizes the Palestinian-Israeli conflict."—Associated Press
"Jebreal's refusal to categorize her characters as angelic or evil is refreshing; she simply demonstrates that each acts according to circumstances."—Library Journal
"An incredibly moving story that sheds light on the problems of a country torn by conflict, and told from the unique perspective of a young girl."—Corriere Magazine (Italy)
"Poignant and disturbing."—Femme Actuelle (France)
"Moving and tragic, but always full of hope."—Mujer de Hoy (Spain)
In April of 1948, a young Arab woman named Hind Husseini discovered dozens of abandoned and orphaned children roaming the desolate streets of Jerusalem. They were dirty, hungry, and homeless—innocent victims of the clashes in Palestine. Husseini took them in and dedicated her life to establishing the Dar El-Tifel orphanage. Years later, after Dar El-Tifel had become a beacon of hope in the community, a young girl named Miral—one of the most intelligent, passionate, and fiercely independent girls Hind would care for—arrives. It is her story that makes readers understand the terrible predicament of those caught in an unending struggle for peace.
As she gets older, Miral's desire to fight for her people's freedom becomes the focus of her life. She begins by attending demonstrations, but soon becomes part of a clandestine resistance movement. Ever vigilant about her girls, Hind knows what Miral is doing and tries to stop her. But Miral is determined, and finds herself in an increasingly dangerous situation. Hind desperately tries to save her from a path of violence in favor of one of education, sacrifice, and a dedication to peace. But is it too late?
MIRAL has been made into a major motion pictured directed by Julian Schnabel (The Diving Bell and the Butterfly) and starring Freida Pinto (Slumdog Millionaire). The cast also includes Hiam Abbass as Hind, Willem Defoe, and Vanessa Redgrave. It premiered in September at the Venice Film Festival and will be released in the US by the Weinstein Company in the spring of 2011. Publication rights have been sold in 13 countries. View the MIRAL trailer.
ABOUT THE AUTHOR
Rula Jebreal was born in Haifa, Israel, in 1973, and spent her early years living in East Jerusalem with her family. After her mother's death she entered the Dar El-Tifel orphanage and school at age five. She remained there until she received her diploma in 1991.
After receiving a scholarship from the Italian government, Jebreal left East Jerusalem to study medicine at the University of Bologna. While there she obtained a degree in physiotherapy and then decided to go back to school to study journalism. She began working for Italian newspapers, including Il Resto del Carlino, Il Giorno e La Nazione, and Il Messaggero, specializing in the Arab-Israeli conflict and the growth of Islamic fundamentalism.
In 2000, Jebreal became the first foreign anchorwoman in Italy to broadcast the evening news on national television. Appearing on both national and private stations, she has established herself as one of Italy's leading television authorities on foreign affairs, particularly those pertaining to the Middle-East.
Since 2004, Jebreal has hosted numerous high profile Italian television programs including: Omnibus, her daily talk show during which she interviewed Italian Prime Minister Silvio Berlusconi, Palestinian President Abu Mazen, and Nobel prize-winner Mohammad El Baradei, among others; Anna Zero, the most important, controversial, political talk show in Italy; and Gate of the Sun, which she produced and broadcast from Egypt.
Jebreal was recognized by Media Watch in 2004 for her coverage of the Iraq war and received the International Ischia Award for Journalist of the Year in 2005. She is the author of The Bride from Assuan, which was awarded the International Fenice Europe Prize, and Divieto di soggiorno, a study of the history of immigration in Europe.
# # #