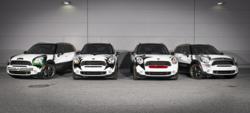 Los Angeles, CA (PRWEB) May 28, 2011
KISS, the most iconic band in the history of rock, isn't just taking the show on the road this summer. They're also taking it to eBay (http://www.eBay.com) for a ten-day Father's Day Charity Auction, starting May 29 at 4 pm PST. Auction participants can bid on any of the four MINI Countryman vehicles, each autographed by the entire band and custom-painted with the iconic makeup for each band member. All of the proceeds will benefit UNICEF to help children in Japan and other emergency relief efforts worldwide.
"Helping others is a gift we can give ourselves, but here's a four wheel bonus!" said KISS co-founder Paul Stanley. "The KISS MINIs are the ultimate way to show your KISS Army colors while helping our friends in Japan who have been devastated by the recent earthquake and floods. We're asking everyone to open their wallets to help UNICEF raise money for children who are still coping with the effects of these disasters."
The custom-painted vehicles are the all-new 2011 MINI Countryman, and feature the iconic makeup and costume association of one KISS member including co-founder and rhythm guitarist Paul Stanley (Starchild), co-founder and bassist Gene Simmons (The Demon), lead guitarist Tommy Thayer (Spaceman) and drummer Eric Singer (Catman).
All of the MINIs will also be autographed by all four members of KISS (http://www.KISSonline.com).
"The KISS MINIs are the perfect Father's Day gift for the man who has everything," said KISS co-founder Gene Simmons, "But this ain't your father's car. It's bigger, better and the very best for the man who has the rest. It's KISS, baby. The custom-painted MINI Countryman would be the ultimate collector's item for a KISS fan or curator of rock band memorabilia, and would be the perfect addition to a car collector's garage; plus the new owner will have the satisfaction of knowing they've supported a great cause."
"MINI has a long history of philanthropic activities as part of our MINI Motoring Hearts program, which is all about giving back to the community," said Jim McDowell, Vice President - MINI USA.
"These efforts support that and we are happy to help UNICEF make a difference in these kids' lives."
The original artwork for all four vehicles was painted by a team of three BMW Group employees, mostly after normal business hours and on weekends. The designs were influenced by each band member's iconic makeup, as well as some attributes of their costumes. Each car was taken apart and components were painted individually to ensure proper coverage and a quality finish that will last.
"It's been a lot of hard work, but the team is thrilled to help contribute to this much-needed cause," said Dan Doot, BMW Group Paint and Body Team Leader. "We have a real passion for this type of work."
For more information, visit http://www.eBay.com, http://www.KISSonline.com or http://www.miniusanews.com.
MINI in the USA
MINI is an independent brand of the BMW Group. In the United States, MINI USA has been operating as a business unit of BMW of North America, LLC since 1975. Royce Motor Cars NA, LLC began distributing vehicles in 2003. The BMW Group in the United States has grown to include marketing, sales, and financial service organizations for the BMW brand of motor vehicles including motorcycles, the MINI brand, and the Rolls-Royce brand of Motor Cars as well as DesignworksUSA, a strategic design consultancy in California, a technology office in Silicon Valley and other operations throughout the country. BMW Manufacturing Co., LLC in South Carolina is part of BMW Group's global manufacturing network and the exclusive manufacturing plant for all X5 and X3 sports activity vehicles and X6 sports activity coupes. The BMW Group sales organization is represented in the U.S. through networks of 338 BMW passenger car and BMW sports activity vehicle centers, 138 BMW motorcycle retailers, 105 MINI passenger car dealers and 30 Rolls-Royce Motor Car dealers. BMW (US) Holding Corp., the BMW Group's sales headquarters for North America, is located in Woodcliff Lake, New Jersey.
Information about BMW Group products is available at http://www.bmwgroupna.com.
Information about the BMW Group and its products is available to journalists at the BMW Group PressClub at http://www.press.bmwna.com or http://www.miniusanews.com.
About KISS
KISS is a legendary American rock band formed in New York City in 1972 and one of the most iconic and influential bands in the history of rock. Their career milestones are staggering. KISS is one of America's top gold-record champions who recorded 37 albums in 37 years and has sold more than 100 million albums worldwide. Over thirty years of record-breaking tours around the globe include high-profile appearances at Super Bowl XXXIII, the 2002 Winter Olympics in Salt Lake City, the 2005 Rockin' The Corps concert dedicated to our troops in Iraq and Afghanistan, and, most recently, the 2009 finale of American Idol that boasted thirty million viewers.
The KISS legacy continues to grow, generation after generation. The unparalleled devotion and loyalty of the KISS Army to the "Hottest Band in the World" is a striking testament to the band's unbreakable bond with their fans. In 2009, KISS was nominated for induction into the Rock and Roll Hall of Fame. Their 2009 release, Sonic Boom, KISS' first album in 11 years, debuted in the No. 2 spot on the Billboard Top 200 chart. This was their highest-ever debut.
About UNICEF
UNICEF has saved more children's lives than any other humanitarian organization in the world. Working in more than 150 countries, UNICEF provides children with health care, clean water, nutrition, education, emergency relief and more. The U.S. Fund for UNICEF supports UNICEF's work through fundraising, advocacy and education in the United States.
UNICEF is at the forefront of efforts to reduce child mortality worldwide. There has been substantial progress: the annual number of under-five deaths dropped from 13 million in 1990 to 8.8 million in 2008. But still, 22,000 children die each day from preventable causes. Our mission is to do whatever it takes to make that number zero by giving children the essentials for a safe and healthy childhood. For more information, visit http://www.unicefusa.org.
Press contacts:
Liam Collopy
President
Levine Communications Office
lcollopy(at)lcoonline(dot)com
(310) 300-0950, x 232
Lee Runchey
Senior Account Manager
Levine Communications Office
lrunchey(at)lcoonline(dot)com
(310) 300-0950, x 248
# # #