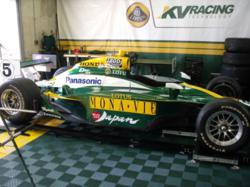 Salt Lake City, UT (PRWEB) May 28, 2011
MonaVie, maker of premier acai berry juice–based nutrition and energy drink products announced today its partnership with Takuma Sato and the No. 5 MonaVie-KVRT-Lotus IndyCar in this year's 100th anniversary of the Indy 500. In addition, MonaVie pledges its support to raise funds for Sato's "With you Japan" charitable program.
"There is much work to do in the rebuilding of Japan, and we need all the help we can get," commented Sato, former Formula One and current IZOD IndyCar Series Driver. "On behalf of the children of Japan, I want to thank MonaVie sincerely for their valuable financial support."
"With you Japan" was created by Sato to help empower child-care professionals in Japan to provide proactive care to the thousands of children affected by the recent disasters.
"This sponsorship is a gift to the children of Japan. We want them to know that we have not forgotten about the tragedies they have faced and continue to face today. Many of these children are without parents, and we want to provide the means necessary to help them rebuild their lives," said Henry Marsh, U.S. Olympian and MonaVie founder and vice chairman. "As a company, our mission is to create 'A More Meaningful Life,' and this is just the start of many things we will do with Sato and his charity, 'With you Japan.'"
During Indy 500 qualifying, Sato averaged speeds of 227 mph and will start in the 10th position at this year's 100th anniversary race, which airs Sunday, May 29, at noon (ET) live on ABC.
About With you Japan
The "With you Japan" program was created by Takuma Sato, who quickly recognized the tremendous amount of ongoing support that so many of the children in Japan will need for months and years to come.
"With you Japan" will assist these young, innocent survivors as they cope with losing members of their family, as well as friends, teachers and even their homes. For many, their lives were changed forever in an instant.
All proceeds raised through this program will be provided through With you Japan's association with Hollywood-based "Children Mending Hearts," a 501 c (3) registered charity that will help empower local child-care professionals in Japan to provide responsive and proactive care to thousands of children as they try to move forward with their lives.
For more information about "With you Japan," visit: http://www.withyoujapan.org. Follow With you Japan on Twitter (@takumasatoracer) and become a fan of With you Japan on Facebook.
About KV Racing
For more information about KV Racing Technology visit: http://www.kvracingtechnology.com or follow KV Racing on Twitter and become a fan or KV Racing on Facebook.
About MonaVie
MonaVie is a rapidly growing company that distributes products to markets around the world. Introduced in January 2005, MonaVie develops and markets scientifically formulated, premium quality products, specifically for person-to-person distribution. Developed with a philosophy of Balance-Variety-Moderation, MonaVie products feature a delicious blend of the Brazilian acai berry and 18 other body-beneficial fruits from around the world. From powerful antioxidant support to joint, heart, and immune system health, each MonaVie juice formula delivers key nutrients to help you maintain a healthy and active lifestyle.
In June 2009, MonaVie introduced to the market a healthy alternative to traditional energy drinks with MonaVie EMV. In January 2011, MonaVie launched MonaVie RVL Premier Weight Solution. Delivering more nutrition per calorie than leading brands, this advanced system gets to the root of weight management: healthy nutrition.
For more information on MonaVie brand products or how to become a MonaVie independent distributor, visit http://www.monavie.com or call 1-866-217-8455. Follow MonaVie on Twitter and become a fan of MonaVie on Facebook.
Contact:
Mike Weingarten
Senior Manager, Public Relations
MonaVie
(801) 748-3374
mweingarten(at)monavie(dot)com
###