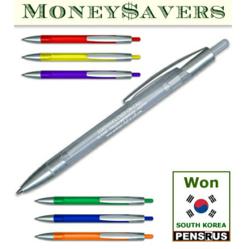 Staten Island, NY (PRWEB) May 28, 2011
PENSRUS, a leading distributor of advertising http://store.pensrus.com/Merchant2/merchant.mvc?Screen=PROD&Product_Code=PRU-AL-3372&Category_Code=MONEY_SAVER&Product_Count=12&?s=prweb [logo pens __title__ Logo Pens], pencils, mousepads, notepads, sticky notes and other promotional products announced a new line of top quality, low priced personalized pens appropriately called the "Money Savers". These distinct new pens offer great value for corporate marketers looking to extend their brand and individuals looking for the perfect giveaway gift to commemorate personal events such as weddings and reunions.
The "Money Savers" advertising pens are available on the PENSRUS web site, and come in 8 different aesthetic styles. All feature high quality retractable mechanisms with large imprint areas designed for logos, text messages or custom art. As with all promotional pens and pencils, PENSRUS does not charge a setup, screen or imprint fee.
Each style of the "Money Savers" is named after a foreign currency, and is available in a choice of up to 6 colors and 2 or more choices of ink color. For the value-conscious, the "Won" model is particularly popular due to its stylish translucent barrel accompanied with silver trim. Prices for the "Won" http://store.pensrus.com/Merchant2/merchant.mvc?Screen=PROD&Product_Code=PRU-AL-604&Category_Code=MONEY_SAVER&Product_Count=5&?s=prweb [promotional pens __title__ Promotional Pens] start at only $0.23 each.
For a limited time, PENSRUS is offering free ground shipping for all customers who purchase the Money Saver http://store.pensrus.com/Merchant2/merchant.mvc?Screen=PROD&Product_Code=PRU-AL-3248&Category_Code=MONEY_SAVER&Product_Count=13&?s=prweb [pens __title__ Pens].
"PENSRUS is very glad to be selected as one the suppliers of Money Saver pens", commented PENSRUS CEO Henry Morgan. "The attention to detail, superior workmanship and low cost offer a tremendous value to those looking for quality promotional products."
For more information and a full listing of the Money Saver line of pens, as well as other quality personalized pens from top brands such as BIC, Paper Mate, Pentel, Scripto, Waterman, Scheaffer and more, please visit http://www.pensrus.com.
About PENSRUS
PENSRUS is a world-leader in the advertising specialty industry providing a huge assortment of personalized and promotional products including personalized pens, pencils, sticky notes, mouse pads and more. Founded in 2001, PENSRUS has helped thousands of companies increase customer loyalty and brand awareness through their quality products.
###