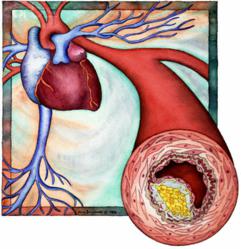 Carotid IMT is recommended by the American Heart Association and the American College of Cardiology to apparently healthy individuals aged 40 and greater
Calgary, Alberta (PRWEB) May 31, 2011
Calgary's Heart Fit Clinic is now the only cardiac rehabilitation and heart attack and stroke prevention clinic in Calgary to offer the Carotid Intima Media thickness (IMT) screening test to help screen for heart disease and stroke before either of these events occur. Fifty percent of cardiovascular events occur without any prior symptoms and most often the first symptom is death. Ignorance is not bliss.
Carotid Intima Media Thickness (Carotid IMT) is an ultrasound of the arteries in the neck and is an important indicator of one's risk of cardiovascular disease.
Carotid intima media thickness test is recommended by the American Heart Association and the American College of Cardiology to apparently healthy individuals aged 40 and greater. The Association calls this screening test one of the latest medical techniques and protocols that all doctors should be using to help patients stay abreast of their heart health. This screening test is not yet widely used in Canada. However, the Heart Fit Clinic wants to change that hoping this screening tool will become a standard recommendation from doctors for all those at risk.
When examining the correlation between carotid intima-media thickness (CIMT) and coronary artery disease (CAD), researchers have found that the utilization of CIMT can predict CAD, according to a study published in the Dec. 31 issue of Cardiovascular Ultrasound (CVUS).
The American Heart Association deems CIMT measurement as the "most useful method to identify atherosclerosis." In previous studies where the risks of atherosclerosis and cardiovascular health were analyzed, researchers found a direct correlation between increased CIMT and an increased risk of Coronary Artery Disease, including heart attack and stroke, according to the authors.
This test determines a patient's cardiovascular age. The Carotid IMT test looks at the first two layers of the arterial wall. If this thickness is greater than a patient's chronological age then this is putting that person at risk of a cardiovascular event. This test is safe, painless, accurate, non-invasive with no radiation and it costs $345 which is tax deductible.
If an individual has higher risk factors to heart disease, such as diabetes, high blood pressure, abnormal cholesterol profile, stress or is overweight it is important to understand cardiovascular risk. A person's risk of developing a heart attack or stroke is determined by possible family history of disease and lifestyle choices such as poor diet, lack or exercise and smoking. A carotid IMT test will help people understand their risk so that they can reverse their risk.
The Heart Fit Clinic is a cardiac rehabilitation and heart attack and stroke prevention clinic. No doctor's referral is required to perform the carotid IMT test. This [cardiac rehabilitation Calgary clinic's goal is to bring to Calgarians the most accurate and cutting-edge screening measures for stroke and heart attack risk so they can know their risk and more importantly provide them with the right tools to reverse and prevent a heart attack or stroke.
###