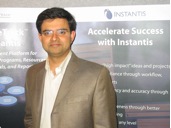 This patent formally recognizes and validates the uniqueness of our pioneering cloud-based solution offering
(PRWEB) May 31, 2011
Instantis, the leading on-demand (SaaS) provider of Enterprise Project Portfolio Management (EPPM) software used by business process and IT leaders to improve strategy execution and financial performance, announced today that it was awarded a patent for technology which is at the core of its FlexSaaS™ computing platform. FlexSaaS is the unique flavor of SaaS from Instantis which provides all of the advantages of state-of-the-art cloud-based computing solutions without any of the trade-offs such as forced upgrades.
The patent entitled "Automated Creation and Maintenance of Programs to Process Internet Forms Related Submissions" was issued on April 26, 2011. It was originally filed with a provisional application on September 30, 1999. The patent pertains to the automated creation and maintenance of server-side software that executes in response to each submission from a web page. Virtually all web applications are designed to handle a sequence of browser-based user requests that cause server-side software to execute, deliver a response to the user and perform other actions on the server. Instantis incorporates this technology into the FlexSaaS server software layer of its EnterpriseTrack EPPM solution.
This technology and its extensions enable Instantis to offer the many differentiating benefits of its FlexSaaS offering, including the ability to:

Provide separate versions of applications for its customers, thus eliminating the need to force-feed customer upgrades while still deploying all customers on a common, scalable, multi-tenant platform
Easily support different databases from vendors such as IBM, Oracle and Microsoft
Provide extreme levels of security and absolute isolation between customer data
Ensure transactional integrity for all user-driven database updates
Achieve industry-leading levels of SaaS scalability and performance
Re-deploy customers quickly from SaaS to in-house installations and vice versa as deployment preferences and policy dictate
Innovate using browser-side Web 2.0 UI paradigms without restriction while leveraging the server-side benefits described above
"After many years it was great to see this process conclude successfully," said Dr. Prasad Raje, Instantis founder and CEO. "This patent not only provides legal protection for a piece of our core differentiating technology, but it formally recognizes and validates the uniqueness of our pioneering cloud-based solution offering."
About Instantis
Instantis is a leading provider of project portfolio management software used by business process and IT leaders to improve strategy execution and financial performance. Leading global corporations like Abbott, Baxter, Credit Suisse, DuPont, France Telecom, Lilly, McKesson, National Grid and Xerox rely on a single system called EnterpriseTrack to fulfill the distinctive requirements of their strategic project portfolios such as PMO, IT, New Product Development and Process Excellence.
###