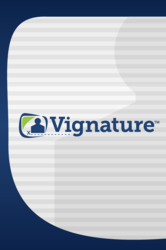 Dallas, TX (PRWEB) May 31, 2011
Vignature, the nation's only provider of image-based electronic signatures, launches Vignature for iPhone and iPad. The app allows for individuals to sign documents, specifically PDF documents, from any location. The difference between the Vignature app and other signing apps is that Vignature captures a time-specific photograph of the signer.
The Vignature app eliminates the need for a printer, and fax machine or scanner. Documents ranging from permission slips to real estate contracts can be legally signed and sent with an iPhone 4 or iPad 2.
Apple products were targeted first because Vignature's technology relies on a front-facing camera, and both the iPhone 4 and the iPad 2 have that functionality. According to Apple, the company sold 18.65 million iPhones and 4.69 million iPads in Q2 2011.
The Vignature app has been well received, since its admission into the App Store last Wednesday. One reviewer, Nathan Stewart, gave the app 5-stars and said, "Vignature delivers on its promise to make signing documents from your iPhone as simple as taking a picture. As someone who dumped his fax machine years ago and hates scanning and returning documents, Vignature is the perfect solution for me. Unlike the glut of useless or copy-cat apps on the App Store today, Vignature delivers unique value at an unbeatable price (as of this review): free!"
In order to sign with Vignature an individual can open a document with the Vignature app, and "tap to sign." Then the user agrees to pose for a photograph, as a part of the signing process. The live image capture is what creates a verifiable signature.
Learn more about the app here: http://itunes.apple.com/us/app/vignature/id439019457
Vignature was founded in February 2011 by Matt Spradley, Scott Roberts, and Kelly Spradley. Based in Dallas, Texas the corporation serves businesses throughout the United States.
# # #