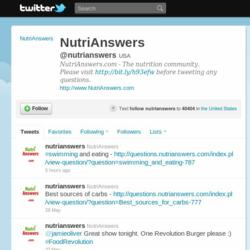 the best answers are often given to the most detailed questions
Silver Springs, NV (PRWEB) May 31, 2011
NutriAnswers.com has just announced it is accepting tweeted nutrition questions. Previously, users had to go to the NutriAnswers.com website to submit questions. Now anyone with a twitter account can submit nutrition questions by tweeting them.
The process is relatively simple. Anyone logged into a twitter account can tweet their questions to @nutrianswers. The only requirement is that an uppercase "Q" precedes the question.
For example, if someone had a question about weight loss, they could tweet something like, "@nutrianswers Q What supplements are best for weight loss?".
There are still instances where it may be beneficial for users to post their questions on the NutriAnswers.com website. The main reason being Twitter's infamous 140 character limit. Some questions may fit into that limit nicely. Others need to be trimmed down and/or abbreviated, which may result in a misunderstood question.
"Users should keep in mind that the best answers are often given to the most detailed questions. Some questions may be perfect to tweet. For others, it's worth the extra step of submitting directly on the NutriAnswers.com website.", said Leilea Fenandoe.
For more information, visit http://questions.nutrianswers.com. You can follow @nutrianswers on twitter by visiting http://www.twitter.com/nutrianswers.
NutriAnswers.com (a 300 Enterprises, LLC website) specializes in nutritional information. Part of its mission is to help people eat and live healthy. The information on NutriAnswers.com is intended for general knowledge and entertainment purposes only; not a substitute for professional advice. Always seek the advice of a physician or other qualified healthcare provider with any questions related to your health.
# # #