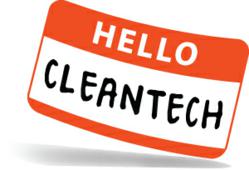 Hello Cleantech helps cleantech companies accelerate and simplify the process of finding new investment partners for no up-front fee
San Francisco, CA (PRWEB) May 31, 2011
A new service from cleantech research and advisory company Kachan & Co. helps clean technology companies find funding for their cleantech ventures and provides cleantech investors with a new source of deal flow.
Hello Cleantech™ is a new program, open to new or established cleantech innovation companies in all regions seeking equity financing of any amount at any financing stage, including early stage or growth capital.
Cleantech companies seeking investment fill out an online form and agree to terms and conditions. Kachan & Co. reviews applications and accepts companies on the basis of perceived attractiveness to venture investors, using criteria such as but not limited to innovation, differentiation vs. competitors, market opportunity and apparent ability to execute.
Information on companies accepted to the program is distributed to more than 7,000 institutional venture investors worldwide with a history or stated thesis of investing in clean technology innovation. Investors receive an email once a month with abstracts of latest companies accepted, and may review companies already in the program still seeking capital.
Companies accepted into Hello Cleantech enter into an agreement to pay a finder's fee upon the successful completion of an agreement with a prospective investor or customer to which an introduction is facilitated by the program.
"In an uncertain venture investment environment, capital raises in cleantech are taking longer than ever," said Dallas Kachan, Managing Partner, Kachan & Co. "Hello Cleantech was designed to provide maximum benefit to clean technology companies with zero out-of-pocket costs—helping cleantech companies accelerate and simplify the process of finding new investment partners for no up-front fee."
Cleantech companies seeking capital may review the Hello Cleantech application form and terms and conditions here.
Institutional investors can receive complimentary notification of companies seeking capital by entering their email addresses here.
Kachan & Co. (Kachan) is not registered as an investment dealer or advisor with any securities commission or similar regulatory authority in any jurisdiction and cannot and will not have any involvement in any transaction that may take place between the companies above and any prospective investor. Kachan will not a) discuss any matters with companies or investors that requires familiarity with securities, b) advise companies or investors on the merits of particular investments, securities, any proposed listing of securities on any exchange or quotation service or otherwise provide securities advice, c) participate in negotiating the terms of any transaction, or d) handle funds or securities in connection with any transaction.
Kachan does not verify the information provided by participating companies and makes no warranties or representations regarding the truth, accuracy or completeness of the information provided by such. Kachan is not responsible for the release of any confidential, restricted or proprietary information provided by participating companies.
About Kachan & Co.
Kachan & Co. is a cleantech research and advisory firm with offices in San Francisco, Toronto and Vancouver. The company publishes research on clean technology companies and trends, offers consulting services to large corporations and cleantech vendors, and connects cleantech companies with investors through its Hello Cleantech™ and Northern Cleantech Showcase™ programs. Kachan staff has been covering, publishing about and helping propel clean technology since 2006. For more information, visit http://www.kachan.com.
For more information or to arrange an interview, contact:
Lucia Siplakova, Kachan & Co.
+1-415-390-2080 x6 office
+1-778-855-1674 mobile
lucia(at)kachan(dot)com
###