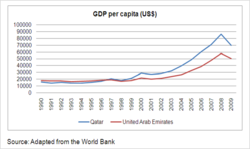 (PRWEB UK) 31 May 2011
Only a third of the British public would travel to Qatar, the destination for the 2022 World Cup, according to research by Bournemouth University's Professor John Fletcher and the University of Plymouth's Dr Yeganeh Morakabati.
Despite the very British images of Earl Grey Tea, Marmalade and Vintage Champagne filling the silence between the Qatar Airways sponsored episodes of Sky News, one of the world's richest countries is yet to win the hearts of the British public.
Research shows that the British have mixed views about travelling to Qatar with only 34% of respondents saying that, "if time and money were no object", they would travel there. The rest of the respondents were evenly divided between those who definitely would not go and those who were unsure.
The British public appear to have a more positive attitude towards the United Arab Emirates – home to destinations such as Dubai and Abu Dhabi, where the majority of respondents stated that they "would wish to go". This is in spite of recent high-profile news events relating to moral codes and the UAE losing ground in terms of per capita GDP.
Professor Fletcher and Dr Morakabati's research is part of a larger study that will be completed by the end of June.
Please contact the respective departments to arrange an interview with the researchers:
Caroline Farwell, Communications Coordinator, Bournemouth University, 01202 961033.
Andrew Merrington, Press and PR Manager, The University of Plymouth, 01752 588003.
###