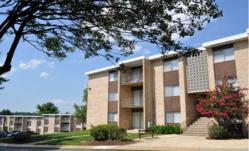 This is the type of transaction The Donaldson Group excels at acquiring, renovating, and repositioning, and we are very excited about the opportunity to rejuvenate this apartment community
Rockville, MD (PRWEB) May 31, 2011
The Donaldson Group (TDG) of Rockville, MD and its equity partner, New York-based Angelo, Gordon & Company (AG), have acquired Pinewood Chase, a 492-unit garden apartment community located in Suitland, MD. The acquisition price was approximately $27.4 million. The partnership plans to invest an additional $12 million in renovations.
New York-based Meridian Capital Group assisted the partnership in obtaining acquisition financing from New York Community Bank. The seller, The Lightstone Group of Lakewood, NJ, was represented by Dean Sigmon and Robin Williams of Transwestern's Bethesda, MD-based Mid-Atlantic Multifamily Group.
Situated on approximately 22 acres just a half mile inside the Washington Beltway (I-495), Pinewood Chase comprises 36 garden apartment buildings, constructed in the mid-1960s, on two parcels of land. In repositioning the property, the new ownership will give each of the two sections its own identity: Andrews Ridge (5601-5633 Regency Park Court, with frontage on Suitland Road) and The Arches at Andrews Ridge (3800-3838 Regency Parkway).
As a result of years of undercapitalization and deferred maintenance, a significant number of capital improvements will be carried out by the new ownership starting shortly. The most notable improvement will be replacing the original, outdated central heating and cooling plant with individual high-efficiency electric heat pumps for each apartment. The ownership also plans to construct a new clubhouse with a fitness center, business center, and leasing office, and will renovate the existing swimming pool and bathhouse.
In addition, each apartment will be renovated with all-new kitchens, windows and sliders, washer-dryers, carpeting, six-panel doors, and fixtures, along with upgraded bathrooms. The renovated kitchens will feature upgraded cabinetry, countertops, flooring, lighting, and appliances. Building facades will be upgraded, balcony railings will be replaced, and roofs will be replaced. Extensive improvements will also be made to the common areas, laundry rooms, parking lots, and landscaping.
Pinewood Chase is conveniently located just minutes from the Suitland Metro station, with a Metrobus stop on the property, and in close proximity to two major employers: the Suitland Federal Center, home of the U.S. Census Bureau and the National Oceanic and Atmospheric Administration, and Joint Base Andrews Naval Air Facility.
"Pinewood Chase presents The Donaldson Group and Angelo, Gordon with an outstanding opportunity to acquire a well-located apartment community in a strong rental market with considerable opportunities to create value for both our partnership and residents through our planned renovations," said Carlton Einsel, Executive Vice President, The Donaldson Group. "This is the type of transaction The Donaldson Group excels at acquiring, renovating, and repositioning, and we are very excited about the opportunity to rejuvenate this apartment community."
Just weeks ago, The Donaldson Group and Angelo, Gordon acquired Regency Pointe, a 599-unit apartment community in Forestville, MD, and has embarked on a $16 million renovation program at that community. In December 2010, partnership acquired Heather Hill, a 459-unit apartment community in Temple Hills, MD and has begun an $8.5 million renovation program there.
Apartments at Pinewood Chase range from 630 to 1,300 square feet with an average unit size of 911 SF, with one to three bedrooms; there is one four-bedroom unit. Apartments feature balconies or patios, wall-to-wall carpeting, dining areas adjacent to large kitchens, and ample closet space. Each building has a central laundry facility. Existing community amenities include a swimming pool and bathhouse, playground, and a basketball court.
Founded in 1998 by Walter R. Donaldson, CPM, The Donaldson Group is a full-service real estate management and investment firm offering comprehensive services and expertise in property and asset management; accounting and financial management; investment, underwriting, and acquisition analysis; and construction management and renovation services. Since 2003, TDG has advised clients on the acquisition of approximately 12,000 multifamily units valued at well over $1.25 billion, and has taken over management of approximately over 18,000 units. During the same time period, TDG has advised clients in disposing of over $1 billion in real property investments, comprising approximately 9,000 units, and has managed over $125 million worth of renovation work. For more information, visit http://www.thedonaldsongroup.com.
Angelo, Gordon & Co., L.P. (AG) is an SEC registered investment adviser that makes investments directly and on behalf of various investment funds for which it acts as the investment manager. The firm currently manages assets of approximately $24 billion. Over the past 18 years, AG has participated in over 300 real estate investments on behalf of the firm and various managed investment funds, with a gross purchase price in excess of $13 billion.
###