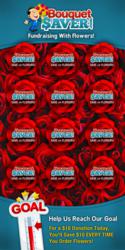 Fairfax, VA (PRWEB) May 31, 2011
Samaritan Fundraising, an innovative fundraising products company specializing in the fundraising needs of Christian organizations, announced the launch of their new fundraising product, Bouquet Saver, a floral discount fundraiser.
This new fundraising product gives fundraising groups the opportunity to raise up to 85 percent profits while also giving the donor a guaranteed $10 savings on every floral arrangement placed through Samaritan Fundraising's floral website, http://www.BouquetSaver.com.
"We're excited to offer the country's first floral discount fundraising product," said Tom Freiling, vice president and founder of Samaritan Fundraising. "Because 1 out of every 3 Americans will buy flowers online this year, fundraising groups will find a broad base of people who will be excited about this product."
The addition of Bouquet Saver will complement the Christian fundraising company's current lineup of fundraising products, which includes the Samaritan Card, one of the nation's most successful discount card fundraisers.
"After months of surveying our customers and beta-testing the product, we're convinced Bouquet Saver will be a new leader in fundraising products," said Freiling.
The Bouquet Saver fundraiser will be made available to the public on June 1.
About Samaritan Fundraising:
Samaritan Fundraising is a national fundraising company dedicated to providing churches, schools, youth groups, and non-profit organizations innovative fundraising products to help reach their fundraising goal.
Bought by Salem Communications in September 2010, Samaritan Fundraising has become a trusted fundraising leader among local and national faith-based groups.
For more information, visit http://www.SamaritanFundraising.com.
# # #