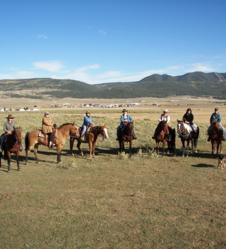 This disease is so strong and overwhelming, it is a comfort to know that there are people out there that are willing to help us out. This retreat helped us to open up and face our fears.
--Veteran Partner
Angel Fire, NM (PRWEB) May 31, 2011
In 2009 the National Veterans Wellness and Healing Center (NVWHC) began retreats for Veterans who had been diagnosed with PTSD and their Veteran families who have been diagnosed with PTSD. In 2009, eleven Veterans and their spouses successfully completed the week-long retreat and have been celebrating their success since. In 2010 another retreat was held and in 2011 ten additional retreats have been funded to help 150 Veterans and their families. These retreats are the most innovative and unique of their kind, offering 58 hours of therapy designed to bring couples closer together in understanding the difficulties of coping with PTSD as a unit.
What are the retreats like?
Aside from the clinical approaches used to help the veterans, complementary alternative medicine such as yoga, guided imagery, Reiki, massage therapy, acupuncture and Native American ceremonies are used. The wellness and healing retreats have also successfully incorporated the use of equine assisted therapy into the program. The natural setting of Angel Fire in the Sangre de Cristo mountains is the perfect location to bring couples to a place where healing in nature is optimal.
How are the retreats scheduled and structured?
Couples will experience a "Welcome Home" reception to start out the week with a theme for every day after that. Orientation and Connecting is the second day theme. The Past: where discussion takes the couples to the impact of deployment consists of the third day. The Present: concentrating on coming home and re-union along with reintegration skills is scheduled for days four and five. The Future: focused on planning the future and goal setting is day six. Connecting and Resources, offering workforce solutions and Veterans Benefits along with ceremony is the last day of the retreat. Departure with feedback and evolutions usually ends on Saturday. It is a full week of tools and skills which will help the couples as they return to daily living.
What is required in order to attend a retreat?
You must have been diagnosed with PTSD and furnish a letter from a VA/therapist in this regard, as well as prove that you have been in or are currently in counseling. Additionally, you must have taken the PCL-M and scored 50 or higher. Finally, it is required that you come with your spouse or partner.
How much do the retreats cost?
Made possible in part by a grant from the New Mexico Department of Veteran Affairs, the retreat is free for qualified veterans and their partners. The only expense is in your travel to arrive in Angel Fire.
What have other Veterans said about the retreats?
"I am a partner to a Vietnam Veteran and we were participants in the Retreat in Angel Fire, New Mexico. When I first got here, I had no understanding of the disease PTSD and that there were so many veterans and their partners suffering in silence because of this disease. This retreat helped me to understand my partner's anger episodes and taught me different ways to help him get through it... and help me get through it. This disease is so strong and overwhelming, it is a comfort to know that there are people out there that are willing to help us out. This retreat helped us to open up and face our fears."
—Veteran Partner, April 2010
"I feel I have a new family now. I learned a lot from everyone: counselors and the whole community. Deep inside I feel so relieved. There were so many things I put my wife through so much and now because of what I have experienced at this retreat, I can forgive myself."
—Veteran Participant, April 2010
How can I sign up and see the schedule?
For more information or to receive an application for future retreats, contact Hoot Gibson (575) 377 1082 or visit [here.
How can I give to this organization?
Thanks to the generosity of our donors, NVW&HC is empowering veterans to release PTSD, reclaim their lives and reintegrate fully into their communities with their families after the experience of war. Our 7-day, therapeutic residential retreats for veterans and their spouses/partners are free of charge — our way of saying thank you to those who have already sacrificed enough.
But NVW&HC is not a government agency; we must rely on the generosity of individual donors, corporate and non-profit organizations and other contributors to continue to offer our retreats and services to military couples and families in crisis — for free. There are also plans to build a center for this treatment in Angel Fire, NM and donations may be sent in honor of others or from yourself to make this center a reality and to continue our mission into the future. The mission of the Center is to establish an environment that is responsive to the needs of veterans and military families using creative therapies and processes that focus on emotional and physical healing. To give, visit this page on our http:// website.
For press inquiries, please call Jennifer Hobson at JLH Media 505 603 8643 or email Jennifer(at)jlhmedia(dot)com.
###