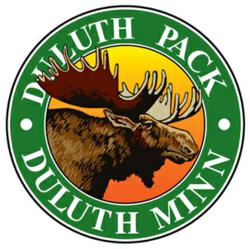 I've always wanted a pack just like the ones I remember, but I just figured they were lost with time
Duluth, MN (PRWEB) May 31, 2011
Traditional style combined with today's fashion trends makes for a very popular item that both men and women are using as an everyday carry bag. Fashion-conscience urbanites are flooding
Duluth Pack with orders for the Scout Pack, which is an American-made slim-lined simple backpack, made of canvas and built with leather, metal hardware, and cotton webbing shoulder straps. People love the slim-and- trim look which makes it easy to carry whether traveling city streets or country trails.
Duluth Pack first unveiled the Scout Pack in fall 2009, as the result of a request by customer David Colman, who is also a writer who chronicles men's style for the New York Times. According to Colman, "I had these distant memories of my family using these great big green backpacks on treks in Glacier Park when I was little," says Colman, who still hikes in Montana every summer. "So I've always wanted a pack just like the ones I remember, but I just figured they were lost with time. One day researching a story, I stumbled across the Duluth Pack website, and I thought, 'This is it!' But then, I found out that the smallest one was big enough to hold a sleeping bear cub or two. (They did have one so small that only a child would wear it -- no help there.)". He states "I asked the company President, Tom Sega, to make a real, old-school-style pack for day hikers or city people, or anyone who'd appreciate the authenticity of the Duluth Pack style. I suggested some dimensions, an inside pocket, and Duluth Pack did the rest." After working with Colman's idea, Duluth Pack created the Scout Pack, which then became an instant hit. "Now I have equal cred in New York City or in Glacier Park.", says Colman.
For nearly 130 years, Duluth Pack has been known for its American-made canvas backpacks that can carry several days' worth of gear for canoeing, hiking, and camping enthusiasts. The slender look of the Scout Pack appeals to a lot of Duluth Pack customers who are looking for a smaller version of the hearty, bigger packs often used on canoe trips. Customers were seeking an affordable everyday carry bag that is built strong and tough and could hold belongings for their daily travels. It looks like the Scout Pack can do just that.
The Scout Pack has also caught the eye of many fashion designers in big cities across the country and across the world. Over the last 2 years, Duluth Pack products have been featured in GQ, Lucky, Marie Claire, and Country Living magazines. This exposure, combined with today's social media outlets, has launched Duluth Pack into the world of fashion. As a result of this exposure, their R & D Department is currently working with several designers on new projects and new prototypes for fall 2011. Looks like Duluth, Minnesota's best kept secret just got out!
About Duluth Pack
Duluth Pack, established in 1882, continues to make high quality packs for canoeing, camping and hiking as well as purses, luggage, messenger bags, hunting gear, and portfolio bags. These products are manufactured in Duluth, Minnesota, using time tested techniques. All Duluth Pack manufactured products offer a Lifetime Guarantee on craftsmanship and hardware.
###