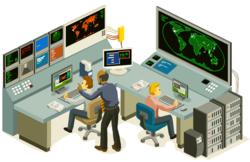 We leverage our remote monitoring and security expertise to create an affordable service to our clients.
London, Ontario (PRWEB) May 31, 2011
Remontech and Commissionaires offer a fresh approach to affordable security services. Security has become an ever increasing issue in this struggling economy. At the same time, resources are limited for hiring traditional security services. Remontech and Commissionaires have identified this need for more affordable surveillance services and together are offering a new service called Remote Security Services (RSS). RSS utilizes Remontech expertise in remote monitoring and Commissionaires extensive security experience to provide a surveillance service that is affordable and easy to deploy.
Using state-of-the-art monitoring equipment, Remontech will set up a remote monitoring system at your site. Commissionaires will then physically monitor your site from Remontech's office. By optimizing personnel numbers and taking advantage of a centralized monitoring centre, Remontech and Commissionaires are able to offer you live surveillance for a fraction of the cost of having a security guard on your site. As an add-on, Commissionaires also offer optional patrols at competitive rates.
About Remontech and Commissionaires:
Commissionaires are Canada's premier security provider, offering an unsurpassed combination of integrity, experience and innovation. They have protected people and property for the public and private sector clients from coast to coast for more than 85 years. They are a solid Canadian, not-for-profit company with a 20,000 strong team of employees. Their people comprise a unique blend of youthful energy, seasoned judgment and security industry professionals of all ages and from all walks of life, including, but not limited to, former Canadian Forces and RCMP personnel. Commissionaires strength is rooted in our security guarding services, where we emphasize prevention and defusing conflict.
Remontech is a world leader in remote monitoring for construction sites, offering an unmatched level of services to assist the manager and owner on keeping control of their project. Operating out of St. Thomas, Ontario, Remontech has extensive experience in monitoring remote projects in both North and South America, with an ever increasing portfolio of high-profile clients. Remontech's unique experience with both remote monitoring technologies and construction management provides their clients with a fresh approach to managing their construction projects. Remontech was incorporated in 2004.
###