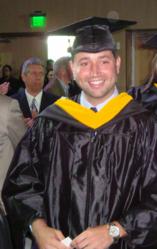 Achieving my Masters of Science in Internet Marketing helps drive Search Revolutions to the next level.
Toledo, OH (PRWEB) May 31, 2011
Matthew Howenstein recently earned his Master of Science Degree in Internet Marketing from Full Sail University and graduated with the prestigious honor of Valedictorian. Full Sail University is located in Winter Park, FL and covers a wide range of specialized degrees from filming and video game development to education and Internet marketing. The 12-month program was completed by Matthew on April 1st and has become a driving force in the implementation processes at Search Revolutions.
As a current partner in the firm, Matthew's integrity and knowledge base creates an exciting opportunity to grow as a partnership firm with their clients. Opportunities in this industry come from all corners of the globe but finding a firm that has its clients best interest in mind can be challenging at times. Matthew is insistent on the fact that communication and push back is quite typical in the online marketing industry but it does not create the type of relationships that Search Revolutions seeks to add to their current portfolio. Creating positive relationships with an open book mentality is Matthew's passion and in his mind, the only way to conduct business.
Due to the ever changing industry standards and influx of social media aspects on online marketing practices, it is important to have educated and up to date staff when providing online marketing services. Matthew has numerous years of experience in the industry, taking the first step during his undergrad with an internship based out of Manhattan. The continuing education process is essential when creating and building value to an individual or brand as a whole. Constantly evolving and staying ahead of the competition allows Search Revolutions to grow their current client list and provides the greatest opportunity to increase consumer brand awareness and overall return on investment!
Matthew will be leading and managing a marketing team consisting of industry experts; the company focus is based on extreme communication and a partnership mentality. This allows Search Revolutions to become an extension of the clients company as opposed to an outsourced firm. Currently, Search Revolutions manages and maintains online marketing portfolios for clients ranging in industries from cosmetics and organic products to power components and tools. Those services include online reputation management, paid search development, website development, social media management and more. With a focus on integrity and communication, Search Revolutions has grown steadily since its conception in 2009.
Ultimately, the partnership between Matthew, Search Revolutions and his clients is very important. By providing the best online marketing services ranging from extremely important social media management to link building and content development, an increase in brand awareness and return on investment is inevitable.
If you would like more information regarding Search Revolutions services please call 419.754.4816 or if you would like to speak with Matthew directly please email him at Matt(at)SearchRevolutions(dot)com. Search Revolutions is also currently offering a free website analysis via their website at SearchRevolutions.com.
###