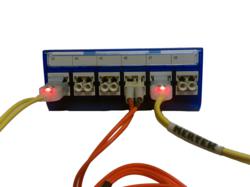 Austin, TX (PRWEB) May 31, 2011
After winning the INNUA Global Connect Innovation Award in 2009 for the EVO6 Traceable Cat6 Patch Cord, Mertek Industries is proud to announce its self tracing fiber patch cord, the EVOf. This optical fiber cable provides the same one touch self-tracing capabilities of the EVO6.
The EVOf continues Mertek's tradition of innovative products in the evolution of datacom industry. The EVOf Patch cord is a standalone product. There is no additional software to purchase and no hardware or external power source required. Mertek's EVOf Patch Cord comes equipped with a Trace Button and a self-powered LED light in each of it's plugs. One press of either trace button starts the LEDs on both ends flashing, making swift and easy identification of the cable possible.
Fiber optic patch cables are preferred over normal copper cables because use of fiber optic patch cables result in comparatively lower loss of signal and because they are highly reliable. The military prefers fiber optic patch cables because these cables are hundred percent immune to any electromagnetic interference. The EVOf Patch Cord provides a time-saving alternative to hand tracing for both large and small projects. The EVOf Fiber Optic Patch cord is the only self-tracing fiber product on the market and promises to be an elegant solution for network cable organization and troubleshooting. The EVOf Fiber Optic Patch Cord reduces network downtime and makes diagnosing network connection issues easy.
Mertek Industries has been providing innovative communication products for over ten years, and is a ISO9001 approved manufacturing company. The company has gained an industry wide reputation for providing quality products that exceed customer's expectations for quality, durability, innovation and overall value. As an OEM/ODM supplier for Avaya. Mertek has become known for adding simple but effective twists to many products.
###