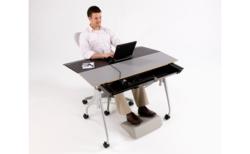 Envelop allows you, your chair, your desk, and technology to work together.
Beltsville, MD (PRWEB) May 31, 2011
The innovative designers at Herman Miller have consistently provided the latest in ergonomic seating, but have recently asked if there is such a thing as a comfortable desk? Even the best task chairs can't do it all in terms of comfort and ergonomics, what if there was a movable office desk that covered the slack? This radical idea turned into the even more radical Envelop Desk by Herman Miller, now available at Sit4less.com.
Sitting all day desk is hard on the body, and while sitting in an ergonomic chair can relieve some discomfort, the body still has a tendency to hunch, crouch, and lean towards the screen. All in all, this results in back and neck pain, eyestrain, and fatigue. The Envelop Desk fills in the gaps of discomfort by moving and encouraging movement, taking full advantage of an ergonomic task chair and natural body movement. Envelop allows the body, chair, desk, and technology to all work together.
Envelop works to optimize every aspect of how the user interacts with the desk. While seated at a computer the body often positions itself uncomfortably so that eyes focus most easily on the monitor. To correct this, Envelop's unique seven-degree tilt keeps technology in the proper ergonomic position, letting the user maintain the visual display at the optimal distance and angle. A shift in position forces the whole desk to shift position synchronously nearer or farther away. Keeping eyes focused to help maintain a healthful, comfortable posture.
It's called Envelop because the sliding, flexible support surface, which is called the infield, envelops its user as they work. The infield slides forward and pivots down to provide flexible support for forearms and wrists. This provides support for a wide range of postures.
From its start, Herman Miller has had a goal of environmental friendliness that was evident in their facility designs, LEED-Certified buildings, and the formation of their Environmental Quality Action Team (EQAT). Through the rePurpose program, Herman Miller gives new life to things your organization no longer needs by sending furniture or any other asset to deserving nonprofits around the world, keeping them away from landfills. Herman Miller's dedication to the environment has now trickled down into the very products they offer, including the Envelop. Made from 32% recycled material and 53% recyclable at the end of its useful life.
Sit4Less.com is the leading source for the most desirable ergonomic seating and accessories found in global Fortune 500 companies and delivers them to the home and small office customer - For less.
#Z##