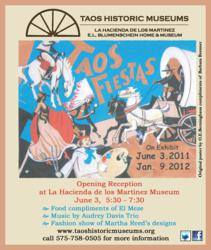 Taos, NM (PRWEB) May 31, 2011
The Taos Historic Museums announces the opening and reception for "Taos Fiestas!"—an exhibit featuring the clothing, film and photographs of the historic Taos Fiestas as well as food, music and a live fashion show. Opening June 3rd at the Hacienda de las Martinez, the show runs through January 9th, 2012. Mannequins wearing past Fiesta Queens' and Princesas' dresses will demonstrate the colorful, feminine side of the celebrations that have been celebrated for hundreds of years by many northern New Mexico communities.
WHAT: "Taos Fiestas!" Exhibit & Reception
The exhibit contains historic photographs and film of the two Taos Fiestas; Las Fiestas de Santiago y Santa Ana, celebrated in July and the Feast of San Geronimo, celebrated in September. Also included will be fiesta costumes, highlighting the fashion savvy of Martha Reed, a local dressmaker famous for her fiesta designs.
A reception, open to the public, will feature food from Taos's El Meze Restaurant (fresh, regionally inspired northern New Mexican and Spanish foods) and live music by the Audrey Davis trio, known for their traditional Spanish music. A live fashion show will show off the fiesta dresses of the past and present.
WHERE: The Hacienda de las Martinez
Built in 1804, this was an important northern boundary for the Spanish Empire and marked the end of the famed Camino Real from Mexico City. After independence from Spain in 1821, the building was used for trading and continued as an extensive ranching and cattle operation. The Hacienda, which is on the National Register of Historic Places, has massive adobe walls and 21 rooms that wrap around two beautiful courtyards, demonstrating Spanish Colonial period architecture.
WHEN: The reception is June 3, 2011 from 5:30 pm to 7:30 pm; the Exhibit runs from June 3, 2011 to January 9, 2012.
FIESTA HISTORY: A fiesta is the annual celebration of a community's patron saint's feast day, something embraced by northern New Mexican communities for hundreds of years. Taos Pueblo, a UNESCO World Heritage site, has been celebrating the Feast of San Geronimo since the days of the early trade fairs. Parades, local foods and entertainment in the plaza were historically part of this celebration.
In 1926 the newly incorporated Town of Taos started the Fiestas for Santiago (St. James) and Santa Ana (St. Anne.) Still celebrated today, Las Fiestas de Santiago y Santa Ana continues to preserve and celebrate the cultures that have lived together in this valley for four centuries. A full history of the Taos Fiestas can be found here.
About Taos Historic Museums: Comprised of two historic buildings, the Hacienda de las Martinez and the Blumenschein Museum, the Taos Historic Museums aims to promote the history, heritage, and cultural arts of Northern New Mexico through the education and the preservation of its unique historic structures and collections. To learn more, visit here.
For information regarding the exhibit or museums:
Taos Historic Museums
575 758 0505
http://www.taoshistoricmuseums.org
Press Inquiries:
Jennifer Hobson
505 603 8643
Jennifer(at)jlhmedia(dot)com
###