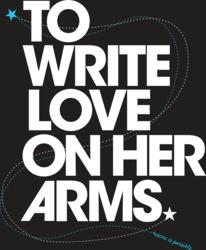 New York, NY (PRWEB) May 31, 2011
In a Memorial Day blog, the non-profit organization To Write Love on Her Arms is urging supporters to take action against the policy prohibiting condolence letters being sent to the families of soldiers lost to suicide. Sadly, in 2009 and 2010 more soldiers died by suicide than were killed in combat. TWLOHA is asking supporters to use their voices and urge President Obama to reverse the policy by contacting the White House directly. For more information or to get involved, please visit: http://www.twloha.com/blog/memorial-day-an-invitation.
To Write Love on Her Arms is a non-profit movement dedicated to presenting hope and finding help for people struggling with depression, addiction, self-injury and suicide. TWLOHA exists to encourage, inform, inspire and also to invest directly into treatment and recovery. Since its start in 2006, they have donated over $850,000 directly into treatment and recovery and have answered over 160,000 emails in over 100 countries.
Since 2006, TWLOHA has been flourishing and continues to grow. TWLOHA has won numerous accolades including "Must Follow Non-Profit" award at this year's Mashable Awards, a full-page color ad in USA TODAY (valued over $185k) by winning the AmericaWants Campaign and $100,000 in the Chase Community Giving Contest, coming in 2ndplace. To promote TWLOHA in the Chase Community Giving Contest, Miley Cyrus, Joaquin Phoenix, and Liv Tyler made a special video together with the founder of TWLOHA. You can view the video here: http://bit.ly/ehKwun.
TWLOHA has been featured on CBS Sunday Morning, NBC Nightly News with Brian Williams, MSNBC, CNN.com, Rolling Stone Magazine, FUSE Network, MTV's The Buried Life, Seventeen Magazine, Paste Magazine, Teen Vogue, Alternative Press, amongst many others. Founder Jamie Tworkowski also won the mtvU Woodie Award in the "Good Woodie" category against artists such as Alicia Keys and Wyclef Jean. He is the only person ever nominated that is not a musician.
For more information on TWLOHA, please go to: http://www.twloha.com
###