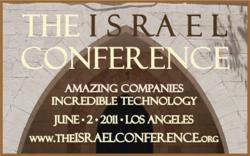 This conference sells out because of the all-star line-up of key speakers. This conference is a meeting place for high-calibre attendees to know each other better and to meet with the speakers in an intimate setting.
Los Angeles, CA (PRWEB) May 31, 2011
What do you get when the Godfather of Israeli High-Tech, Yossi Vardi, sits down to chat with Haim Saban, the Chairman and CEO of Saban Capital Group? Great discussion and insights as to what makes these men grow businesses.
Those that attend The Israel Conference™ on June 2nd at the Luxe Hotel in Los Angeles can be assured of an exciting, engaging, and humorous exchange of ideas between these two industry giants that have one key common area interest between them . . . Israel!
Yossi Vardi is known as one of Israel's first high-tech entrepreneurs and an early stage "Angel". Over the past 40 years he has founded and helped to build over 60 high-tech companies in a variety of fields, among them software, energy, Internet, mobile , electro-optics, and water technology. In 1996 he became the founding investor of Mirabilis - the creator of ICQ, which was the first instant messaging application and was sold to AOL for over $400M. Yossi has been a tremendous asset to the State of Israel and to so many enterprising entrepreneurs worldwide.
Haim Saban is a worldwide pioneer and leader in the entertainment industry with many claims to fame. Of course we all know Haim Saban for the production of the very popular Mighty Morphin Power Rangers™ in the 1990's. Haim Saban co-founded Fox Family Worldwide and sold it to Disney for over $3B. Today he is one of the Forbes richest persons in America, is well-connected, with passionate devotion to the philanthropic and a passion for Israel.
The Israel Conference™ is very pleased to have both men join us on Thursday, June 2nd in Los Angeles where we will be able to listen to Yossi Vardi and Haim Saban as well as Jon Miller of News Corp, Raanan Horowitz of Elbit, David Enzer formerly of Universal Music Publishing, and Jim Goldman of Burson-Marsteller as well as many other leading technology innovators and investors for a first look at technologies and products in Mobile, Consumer Brands, eCommerce, Advertising, and Media & Entertainment technology coming out of Israel. Learn firsthand why Israel is a world leader in technology development. Be part of the discussion on venture capital and why investors are putting capital into Israel at a rapid rate.
ABOUT THE ISRAEL CONFERENCE
The Israel Conference™ is the largest gathering in California of innovative CEOs from Israel in technology, entertainment and media, gaming, advertising, mobile, content, energy and consumer products on June 2, 2011 in Los Angeles at the Luxe Hotel on Sunset from 7:30am to 8:30pm. The Israel Conference™ sets itself apart from other business conferences by having a unique focus on Israel-facing companies with speakers who are CEO's and top executives from innovative companies and industry leaders will share their insights for opening up new markets in the areas of Advertising, eCommerce, Content and Convergence, Mobile, Consumer Brands, and Going Public. Attendees are senior business executives from across the US and Israel.
The Israel Conference™ has amazing speakers from major and emerging companies. A few of the 60 chief executives that are speaking include eBay Country Manager Israel Amit Menipaz, Marvell Technology Senior Director Strategic Alliances and New Initiatives Iri Trashanski, Trendlines Group Founder Todd Dollinger, PageOnce Founder and CEO Guy Goldstein, Genesis Partners General Partner Jonathan Saacks, Dotomi Co-Founder Yair Goldfinger, Orange/France Telecom Managing Director for Innovation Roseline Kalifa, LivePerson, Inc. CEO and Chairman of the Board Robert LoCascio, and Toronto Stock Exchange President Kevan Cowan.
The Israel Conference™ is co-chaired by Yossi Vardi, considered the Godfather of Israeli High-Tech, and Sharona Justman, managing director of STEP Strategy Advisors, an acquisitions advisory firm in Los Angeles. According to conference co-founders, "This conference sells out because of the all-star line-up of key speakers. This conference is a meeting place for high-calibre attendees to know each other better and to meet with the speakers in an intimate setting. We have a unique point of alignment and we are showcasing world-class companies that have a footprint in Israel. It's an amazing group of highly focused executives all together for one day," says Justman.
The day will host hundreds of business executives and will showcase over 60 companies with a presence in Israel to speak on panels, demonstrate during the unique Fast & Cool™ track, and meet with executives all day in the Pavilion of Companies.
The Israel Conference™ features innovators of significant businesses that were founded in Israel / have R&D in Israel / do business in Israel / and investors in Israeli companies in an interactive forum to increase business and investment opportunities. Speakers represent the spirit of the inventiveness of the Israel market. Attendees will gain an insider's understanding of the growth of both public and privately-held Israel-facing companies.
Register online to make sure you are part of this hot event on June 2, 2011, at the Luxe Hotel in Los Angeles. Go to http://www.TheIsraelConference.org to get all the details and register online.
Register before June 2 to get the best seat!
###