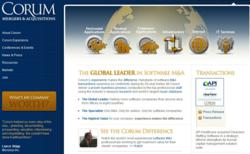 The Social Network is changing everything! The way we structure our companies, market and sell. Unbelievable IPO valuations, and private deals from business plan to millions. But, there will be casualties – will you be one of them?
Seattle, WA (PRWEB) May 31, 2011
Corum Group, the international leader in software and technology merger and acquisition services, is proud to announce its next exclusive monthly web event, "Social Wars/Social Sellers" on June 2, 2011, at 1 p.m. EDT. Robert Scoble of Scobleizer blog fame will join Corum panelists as a guest analyst, reporting on the "Rapid Evolution of the Social Scene." Other guest panelists include two CEO's from the social media space who will discuss the very recent sales of their companies to Google and to Facebook.
"A web event that features these particular guests will be extremely beneficial to executives who are wondering just how they can come out on top in the M&A game," said Ward Carter, Corum Chairman. "These stories will prepare our participants for success, offering strategy, insight, and advice, especially for those looking to sell a business."
In addition to the social sellers' panel discussion, the June webinar will also feature William T. Cavanaugh of OnPoint Medical Diagnostics, for a discussion about "Alternative Exits," providing insight into the challenges and pitfalls of less-common deal structures such as reverse mergers and PIPEs.
Corum's monthly Tech M&A web events always feature the Corum Index, a discussion on current trends and business valuations in the tech M&A sector, with information broken down into 6 market segments and 26 separate sub-categories. This allows executives from every field to see specifically where their company is trending with up-to-the-moment statistics. The Corum Index discussion features Corum's own research team, who measure recent M&A activity against long-term trends, and offer insight on what to expect in coming months.
The web event will end with a Q&A session, including members of the seller's panel, so that attendees can get information directly from the source. Participants are welcome to send in their questions via Webex, as Corum researchers and deal makers will also participate, providing an excellent opportunity for those hesitant about M&A to find out how to get started, and what trends to bet on. Questions that are not answered during the web event will be responded to via personal contact afterward.
This web event will be broadcast live on June 2, 2011, starting at 1 p.m. EST. Participants are encouraged to register early, as space is limited. Two rebroadcasts for European and Asian audiences are scheduled for June 9, at 3:30 a.m. and 11:30 a.m. EST.
Registration for "Social Wars/Social Sellers" is free of charge, but space is limited. To register, visit https://mergersandacquisitions.webex.com
About Corum Group
With headquarters in Seattle and Zurich, Corum Group has completed more Tech M&A transactions than anyone other M&A firm globally. As a tech M&A leader, Corum also sponsors more than 100 educational events for tech executives every year, and has hosted seminars on building value and tech M&A in 32 countries.
Corum Group has recorded hundreds of transactions and has helped generate billions of dollars in wealth. Corum's primary deal-makers are all former software CEOs, and insure more smooth mergers and acquisitions processes than any other M&A advisor. From Silicon Valley to Seattle to international deals across Europe and in Asia, the totality of the merger and acquisition process, are within the purview of Corum's M&A advisers.
About Corum Web Events
Corum Group hosts a monthly webinar featuring up-to-date content and statistics reflecting both the M&A market of the last month, and perspective on where it is going. Webinars feature guest speakers, including acquisition executives from companies like Google, Microsoft, and HP, as well as private equity investors, and executives from recently acquired companies. Regular segments on Corum's web events also include the Corum Index, an overview of the tech industry with an eye on tech M&A and business valuation trends, panel discussions, and Q&A.
###