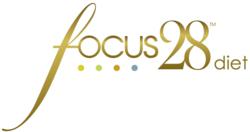 It's important that our team understand and experience the Focus28 weight loss program
Tarrytown, NY (PRWEB) May 31, 2011
Focus28 recently expanded its customer service team with the acquisition of Peggy Caraccio, a former IT and Customer Service Manager at Pace University, and the hiring of three new weight loss consultants. Peggy's experience and knowledge has already helped the Focus28 team improve its diet support options. Peggy upgraded the support architecture and instituted a system that routinely follows-up with new and existing weight loss customers. This continual outreach by Focus28 team members is helping customers to lose more weight and overcome typical obstacles encountered during their diet and lifestyle transformation.
The Focus28's support team is made up of trained professionals, many of who have lost weight with Focus28. "It's important that our team understand and experience the Focus28 weight loss program," says Mitch, CEO of Focus28. "I've struggled with my weight all my life, I know what people are going through, I founded this company to help those like myself and we've built a team that knows the struggles of being overweight."
Slender or obese, all new team members are required to follow the Focus28 Weight Loss Program for at least two weeks (longer if they want). Mitch states, "Weight loss isn't the goal. It's all about experiencing the tastiness of our diet foods, understanding the benefits of high protein, and how on fewer calories, you still don't feel hungry or sluggish." The typical result, new hires lose a few pounds but gain enormous first hand experience with the Focus28 Weight Loss Solution.
Long-term successful weight loss is comprised of the initial weight loss and relearning healthy habits. The Focus28 support team exists for this very reason - to help clients reach their weight loss goals and ensure they keep the weight off. After weight loss, the Focus28 team transitions customers to maintenance mode and continues to check in with them to monitor their long-term success. In fact, Peggy now has team members reaching out to long ago weight loss patients to make sure they're still doing well and staying slim.
About Focus28 Diet, Inc.
Focus28 Diet started out treating post-op bariatric surgery patients. Their success in developing programs specific to the needs of bariatric patients and their long-term maintenance led directly to the development of the Focus28 Weight Loss solution. The Focus28 weight loss approach promotes protein enhanced diet foods that safely and effectively impact weight loss through calorie reduction, exercise, and continual support. Focus28's programs include meal replacements, supplements, and snacks that keep you eating every 2-3 hours so you're never hungry. The higher protein amount keeps energy levels up, increases metabolism, and maintains and promotes lean muscle. The combination of delicious diet foods, the proprietary Iso-Towel Workout, and patient support has proven a successful formula for weight loss.
###