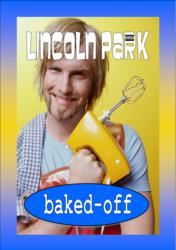 BAKED-OFF is a considered confluence of food, traditions, technology and the saucy, satirical wit of today's eclectic pop & alternative cultures.
Springfield, MO (PRWEB) June 29, 2011
4465 PReSS, a popular, Independent Publisher of 21st Century multimedia titles, has just released, BAKED-OFF; a satirical, literary romp through modern, American culinary experience. BAKED-OFF is the fourth in a growing list of books by contemporary novelist, LiNCOLN PARK.
BAKED-OFF is a sumptuous casserole of people, places, plots and recipes; revolving around participation in the national and fictitious, Tower Flour Baking Contest.
BAKED-OFF tells the stories of several such 'foodies' – who vie for the top spot in the 'Super Bowl' of cooking competitions. The main characters, a flawed and fractious lot; search for identity and validation through their relationship with food.
BAKED-OFF is a considered confluence of food, traditions, technology and the saucy, satirical wit of today's eclectic pop & alternative cultures. It is being lauded as a pioneer of the 'wave 2' fiction genre (a new subset of novels where characters interact with readers using external, social communication tools – i.e. external websites, blogs, twitter accounts, email addresses, phone numbers, music playlists, and online reviews. Another noteworthy book in the 'wave 2' fiction category is "Personal Effects: Dark Art" by J.C. Hutchins).
The interactivity begins at Tower Flour -- The reader's online experience with BAKED-OFF is centralized at the book's official website, http://www.towerflour.com At towerflour.com, readers can enjoy photo collages of baking scenarios, recipe listings from the book, character references, videos of flour fights and a password-protected, interactive footnote index. Readers of BAKED-OFF will be additionally surprised and delighted by their ability to interact with the main characters; as these characters also possess working email addresses, twitter accounts, websites, online playlists and blogs.
The publication of BAKED-OFF comes two and a half years after the release of Ms. Park's wildly popular third novel, HANDLE TiME (isbn:0615215181); the humorous, working-class rant about the character and consequence of an American Call Center. HANDLE TiME has received stellar reviews from both, literary and call-center communities.
"I wrote BAKED-OFF for my fans," says LiNCOLN PARK; "They still read hard copy; but they also tweet, email, blog, comment, review, download, stream, etc. I wanted this book to honor the new and exciting ways in which my readers and fans cultivate entertainment media and engage with storytelling environments."
BAKED-OFF is a spectacular tribute to today's epicure; and the way that the first leg of the food, clothing, shelter trinity has stood up to the test of human life.
BAKED-OFF
Genre Fiction
Paperback; 178 pages
ISBN: 1257642952
ISBN-13: 978-1-257-64295-3
Books by 4465 PReSS authors are available at major online booksellers such as Amazon.com, Books-A-Million, Barnes and Noble and Alibris. See video trailers for all 4465 PReSS books on You Tube, Revver, Metacafe and other prominent online video showcases. Follow 4465 PReSS on twitter (@4465press) for real-time information and updates.
4465 PReSS is a wholly owned subsidiary of barrendau LLC and 4465 Media. http://www.4465press.com
###