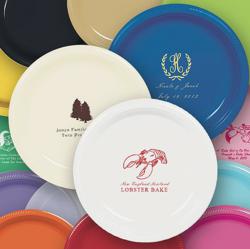 Couples planning their wedding reception, companies planning corporate events and families planning picnics and parties have a unique alternative to tradition disposable paper plates
Willard, OH (PRWEB) June 08, 2011
Just in time for the summer wedding season, My Wedding Reception Ideas is excited to announce the addition of personalized party and picnic plates to their catalog of personalized wedding and party decorations. "We've been a leader in custom printed paper napkins for years. In 2009 we added personalized disposable cups to our catalog and now, it's only fitting that we are now able to offer personalized party plates to complete our line of personalized casual and formal disposable reception and party supplies", states Ray Miller, president of My Wedding Reception Ideas.
''We've been aware of a demand for personalized plates for years from our customers who order napkins and cups for their wedding, birthday party and other events", said Miller. "The problem was existing print technology to fulfill this demand. Now, in conjunction with one of our suppliers, we have a great product to satisfy our customers' requests". Couples planning their wedding reception, companies planning corporate events and families planning picnics and parties have a unique alternative to tradition disposable paper plates by adding a personal touch to their next party with personalized plastic party and picnic plates.
Traditional paper plates have always been popular for parties where china or porcelain plates are not practical due to conditions like outdoor events or the fact that the hosts do not want the hassle and expense of clean-up after the party is over. The downside to paper plates is the problem of absorbing moisture and becoming unstable with the potential of food falling to the ground or floor as the strength of paper plates is compromised. Plastic plates, however, do not absorb moisture and remain rigid no matter what type of food is placed on them. Now, thanks to state-of-the-art printing technology, plastic plates can be custom printed with colorful designs and wording to reflect the celebrants special occasion. A bride and groom can have their names or monogram letters and heart or other wedding design printed directly on their plates to match the wedding theme or colors. Cake and sandwich plates for birthday parties can be printed with the birthday boy or girl's name and a fun design. The annual family or company picnic can be recognized by a name or logo and event date to commemorate the annual party. The types of events and uses for personalized plates are limitless.
Personalized plates are available in a selection of styles, shapes and colors to compliment any event, from formal wedding receptions, to informal picnics and company parties. Affordable disposable plastic plates are available in several sizes for cake, sandwiches, appetizers and dinners. Premium plastic plates are made of thicker material and have the look of fine china or porcelain and can be reused or saved as keepsakes of the couple's or host's event.
About My Wedding Recepiton Ideas: Founded in 2003, My Wedding Reception Ideas is a leader in personalized wedding favors, accessories and gifts with emphasis on product quality and customer service. Visit us at http://myweddingreceptionideas.com for more information on personalized party plates and personalized picnic plates.
###