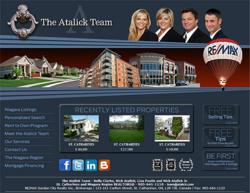 This website is all about sharing our knowledge and providing value-added service to our cients
St. Catharines, ON (PRWEB) June 14, 2011
http://www.Atalick.com is a new website that promotes current St. Catharines and Niagara Region MLS real estate listings and offers valuable tips and information on everything related to real estate. The website is geared toward St. Catharines and Niagara Region home buyers and sellers and also features commercial properties. With time saving tools the site works to inform and educate those ready to buy and sell real estate.
Home buyers and sellers in the St. Catharines and Niagara Region no longer have to wade through countless newspapers and real estate magazines for listings and market information. Atalick.com updates mls property listings automatically, three times a day.
Users can select the quick search option to browse by price and type of listing, click the personalized search button to search by user-specific criteria, check out the Atalick Team's blog posts or read about marketing efforts including the Atalick Team's rent to own program. The website also provides information on mortgage financing, selling tips, first time home buyer tips and so much more. Atalick.com may also be followed on Facebook, Twitter and Linkedin.
Users can refer a friend, sign up for the Atalick Team newsletter or write a testimonial. Time saving online forms makes Atalick.com a valuable tool for those delving into home ownership. Families can experiment with the dollars and cents of home buying by using the online mortgage calculators. The site's land transfer tax calculator estimates the amount of land transfer tax on the purchase of a residential home. Buyers can even click to apply for a mortgage using the convenient online application system.
Kelly Clarke, Atalick Team founder and award winning sales representative says, "I knew we had to take our business to the next level of excellence. This website is all about sharing our knowledge and providing value-added service. Now we can keep potential buyers and sellers informed about Niagara Region properties and industry knowledge with the click of a button. We are thrilled to offer Atalick.com for all to use."
Clarke, also notes, "Of course, our website is only as good as the professionals that serve our clients. We stand out as Niagara Region Realtors because of the team's complimentary strengths, the drive and knowledge that we offer to our clients and our unfailing integrity."
In addition to founding member Kelly Clarke, the team includes Nick Atalick, commercial consultant, with over 30 years of real estate experience. Nick combines real estate know-how together with a solid background in development, building and construction. Lisa Paulin excels in the role of customer care administrator and is a licensed sales representative for the Atalick Team. Nick Atalick Jr., specializes in residential sales of Niagara- On- The- Lake properties. Angela Vidakovic, mortgage expert, with Dominion Lending Canters Easy Street Mortgages rounds out the Atalick Team by providing financial services to potential buyers and sellers.
Atalick.com is an easy to navigate, feature-rich website showcasing current Niagara Region MLS listings. The site offers a wealth of information and real estate specific tools available to home buyers and sellers. The team's sales representatives along with founding member, Kelly Clarke, focus their efforts on providing superior real estate services in the Niagara Region.
###