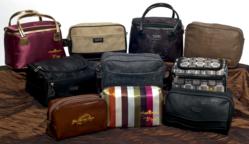 "there are custom packed toiletries or overnight bags to suit all unique needs."
Methuen, MA (PRWEB) June 01, 2011
Welcome to the homepage of Get Ready Bags, the online, one stop shopping portal for all traveling toiletry needs. Stylish and roomy bags are offered, which are easy to clean, provide extra organization, and are made to last through either recreational or time pressed travels.
At Get Ready Bags preparations are easily made for a worry free and relaxing trip. For the frequent flyer or daily driver, there are custom packed toiletries or overnight bags to suit all unique needs. Shopping for all kinds of travel needs is an easy and pleasant experience.
There is a large selection of luggage sizes and style options and a wide variety of travel toiletries to choose from in various sized pre packed kits (Basic, Plus, and Deluxe), including everything from: lotions, soaps, and wipes to garment bags, personal electronics, and shoe shine kits. No more last minute runs to the local department store or pharmacy only to find items are sold out or overpriced. There are travel slippers for men and woman! No more walking around the hotel room in socks or bare foot. The travel slippers are easy to pack in their own jazzy and compact draw string bag.
All toiletries meet TSA requirements and thus are less than 3 oz. and provide a hassle free experience through airport security.
The online store at getreadybags.com is user-friendly and easy to navigate. If time permits, there is even the option to build a bag in the Build─a─Bag selection. To save time on travel adventures, a custom user account can be opened to securely order refill kits.
Get Ready Bags are versatile. They offer the convenience of easy storage in the car or at the office for those quick, last minute, touch ups before an unexpected client meeting, spontaneous outing with friends, or simply a freshen up during the day. Then, in between travels or when supplies are finished, bags can be re-used as a makeup or jewelry purse, medicine case, or household organizer—the possibilities are endless!
Get Ready Bags also make great gifts for a soon to be bride or groom planning a honeymoon or for someone who is always on the go and could really use these low-cost and timesaving travel bags and kits. Login to http://www.getreadybags.com and order yours today!
###