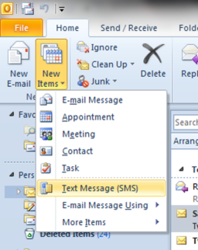 We are delighted that Bulletin.net is supporting Outlook to help text messaging from a computer become as easy as emailing
San Diego, CA (PRWEB) June 08, 2011
Bulletin.net Inc has announced it can now provide Microsoft Outlook users in the USA with an individual phone number for sending and receiving text messages (SMS). Microsoft built a text message option into Outlook 2007 and 2010 and has approved Bulletin.net as a service provider for transmitting messages. Bulletin customers can now select a regular phone number exclusive to them, which is then used to deliver their Outlook text messages to mobile phones worldwide. Text messages can also now be received on the number and are delivered into their Outlook email. Bulletin's pricing starts at $5 per month for an individual number and text messages from 2 cents each. (http://www.bulletin.net/text-message-outlook).
"We are delighted that Bulletin.net is supporting Outlook to help text messaging from a computer become as easy as emailing," said Roby Kurian, Sr. Product Manager at Microsoft Corporation. "The availability of individual numbers makes it even more compelling to use the Outlook Mobile Service."
"We believe people and businesses will want a text message number for Outlook, just like they want an email address," said Bruce Herbert, President at Bulletin.net. "This makes text messaging from a computer as simple and effective as the traditional way on a mobile phone, but with all the benefits of using email. An individual rather than a shared service-provider's number means people will know the text message is from you, so it will get read quickly. Being able to receive text messages into Outlook email is a great new feature also now made possible by the numbers."
The text message (SMS) function is already included as a menu item by Microsoft in Outlook 2007 and 2010 and Bulletin provides a user-ID and a password and messages can be sent immediately. When people sign up at http://www.bulletin.net/text-message-outlook a number for text messaging can be selected by Outlook users in the area-code they prefer. 10 free trial messages are provided to get started and then they cost as low as 2 cents each. There are no set-up fees and individual numbers start at $5 per month. The message prices remain the same when used while travelling in the country or even overseas, representing big savings on mobile phone text message international roaming charges.
Microsoft's web-site summarizes the reasons they have included a text message option into Outlook. "Communicating with a wireless device by sending e-mail messages can be awkward — not all mobile devices can connect to an e-mail account, and accessing e-mail messages on a mobile device is typically slower and more difficult than reading text messages. An easier way to send and receive text messages is with your computer and Outlook 2010. With Outlook, you can send messages to multiple people simultaneously, and a full-sized keyboard enables you to write messages more quickly and comfortably. Also, incoming messages are received in your Outlook Inbox. You can save your text messages just as you would with an e-mail. This helps you maintain an ongoing record of your mobile communications."
Bruce Herbert further commented, "SMS Text Messages are usually considered best for contacting people quickly and directly anywhere. Email has been considered easier to use for typing and managing messages. We are thrilled therefore to bring the best of both together in an affordable package with our service and individual numbers for text messaging in Microsoft Outlook."
About Bulletin.net Inc
Bulletin.net Inc is a world-renowned developer and supplier of mobile-device messaging software and services, available to carriers, enterprises, developers and consumers. Operating since 1997, the company has successful businesses established in the USA, UK, Australia, New Zealand, Hong Kong, Brazil, The Philippines and China. Bulletin.net delivers high-performance global mobile messaging products, connectivity and support services to an extensive list of clients around the world including many blue chip and Fortune 500 enterprises and telecommunication companies. Bulletin's patents include the only known method of automatically enabling the 'reply' button on cellphones to be used to seamlessly respond to web and software SMS text messages.
Contact for product information and sales: salesadmin(at)bulletin(dot)net, Phone: +1 858 430 0351. Bulletin.net Inc 4445 Eastgate Mall, Suite 200, San Diego, CA 92121.
# # #