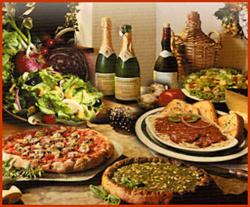 The food and wine will be unbelievable and it will be available at a very reasonable price
San Jose, CA (Vocus/PRWEB) June 21, 2011
Antonella's Ristorante will be hosting a wine-maker dinner on May 17 at 6 p.m. This is a special event to celebrate the new release of the new line of wines offered through Frogs Tooth Vineyards.
"The food and wine will be unbelievable and it will be available at a very reasonable price," said Lyle Koch, owner of Antonella's Ristorante.
The cost of the wine-maker dinner is $45 per person and various wines will be presented below retail prices. This is the second event of this kind that the San Jose-based restaurant is hosting and they are aiming to make it a bi-monthly event.
With 10 years of service under its belt, Antonella's Ristorante is recognized for its delicious and classic Italian cooking and their emphasis on serving wine along with its appetizing menu. They offer delightful cooking to customers from Rose Garden, Shasta Hancett, College Park, Santa Clara, and San Jose. With its commitment to providing fabulous foods at great prices, Antonella's Ristorante continues to offer service with their philosophy of keeping it simple and keeping it fresh with honest prices and decent portions.
For more information, call them at 408-279-4922 or visit them on the web at http://www.antonellasristorante.com.
About Antonella's Ristorante
Antonella's Ristorante has been servicing the communities of San Jose, Santa Clara, College Park, Shasta Hancett and Rose Garden for more than 10 years. Enjoy fine dining in this Italian restaurant or take advantage of their catering services. They are proud to serve fabulous food at great prices and do not compromise quality. Antonella's Ristorante is committed to providing guests with foods that are prepared in-house.
###