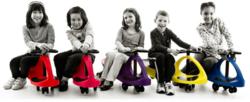 The Didicar Company has built a successful reputation for high quality, unique and innovative toys for children of all ages.
(PRWEB UK) 8 June 2011
The Top Five Toys for Summer is an annual list of toys chosen by didicar® judged against five criteria; unique design, colour and attractiveness, quirky uniqueness, quality of product construction and value for money. This year the toys have been chosen in five wide ranging categories. 1. Outdoor Toys. 2. Eco Toys. 3. Wooden & Natural Materials. 4. Toddler Toys. 5. Ride on Toys.
Outdoor Toys – The Big Forklift
This is an astounding pedal powered toy. The Big Forklift Truck is a big fully functional scale replica of a working fork lift truck. It has a robust construction, as expected with a fork lift, and actually has working forks and a pallet.
Eco Toys – The Green Toys Re-Cycling and Fire Trucks
There are eco toys that boast just low carbon footprints but in these toys re-cycled materials are used to make actual Re-Cycling Trucks, Refuse Trucks and the like. These toys are exceptionally strong with a distinctive look.
Wooden & Natural Materials Toys – E-Racer Bamboo Racing Cars
These racing cars don't just use naturally sustainable bamboo they do it with style. The E-Racer Cars use colour and design to combine in a stylish durable push along toy. The colour of each car is infused into the bamboo giving it a unique and long lasting finish.
Toddler Toys – First Friends Safari Vehicle
The Safari Vehicle takes this category because of its clean camouflaged lines and functionality. The colourful truck can be pushed along or move under its own power. There is a range of these toys but the Safari vehicle just has the didicar factor.
Ride on Toys – didicar®
Didicar® is a highly original toy that scores full marks for both fun and appeal. The simple, attractive and boldly coloured design cries out: 'Ride me!'. Despite having no pedals or motor, this is no 'feet to floor' ride-on. Didicar® applies the physical laws of gravity to propel it along (both forwards and backwards) by using the child's own effort in turning the steering wheel from left to right with their arms and upper body strength, while their feet are elevated and at rest beneath the steering wheel.
The Didicar Company's flagship product, the didicar®, has topped international best selling lists for many years and with their new didicar® web site it launches its exclusive new Toy Shop. Now in addition to the unique didicar®, The Didicar Company offers an exclusive collection of funky toys just like the didicar®.
The Didicar Company has built a successful reputation for high quality, unique and innovative toys for children of all ages. The didicar® has been central to this success. The launch of the new web site for didicar and the collection of new toys in didicar's toy shop is the natural extension for the Company. "We received so many requests for more and more products like didicar that we had no choice but to listen." said Peter Amis, CEO of The Didicar Company. "The timing of the launch is perfect for us as it coincides with the release of our 2011 list of the Top Five Toys for Summer."
For more information on this year's list of the Top Toys for Summer go to http://www.didicar.co.uk
The Didicar Company is the exclusive distributor of the didicar® and provides a range of high quality unique toys for children of all ages.
###