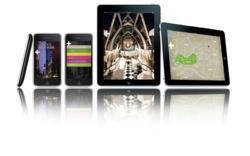 "Travelers are becoming more tech savvy and smartphone apps are more and more relevant and user friendly. The number of downloads is exceeding our expectations and our customers can look forward to additional cities and new features"
New York City, NY (PRWEB) June 09, 2011
"Travel like an insider" — by creating an image-driven app and focusing on high-end and intuitive user interface design, teNeues positions its guides in the ever-expanding field of travel apps to appeal to tourists and locals alike.
Highlights include:

Extensive photo gallery for each location
Exclusive bars, restaurants and hotels
Landmark buildings, galleries and museums
Free and frequent updates
Celebrity tips
Create your own tour
Audio guide
Videos
Around Me GPS locator
Explore by district
Search by category
Available in 4 languages (English, Spanish, French, and German)
Apps can be downloaded from iTunes for a limited time introductory price of $1.99.
COOL NEW YORK
COOL BERLIN
COOL LONDON
COOL PARIS
COOL ROME
Hendrik teNeues, Publisher, notes:
"Travelers are becoming more tech savvy and smartphone apps are more and more relevant and user friendly. Since the first weekend of our app launch of Cool Cities, thousands of people have already downloaded our apps like Cool New York or Cool Berlin, which received top rankings and favorable reviews. Our customers can look forward to additional cities, and new features soon."
For media outlets, additional information and high resolution images can be obtained by contacting teNeues Publishing directly at khassfurter(at)teneues-usa.com.
teNeues Publishing Group, Company Overview:
The leading international publisher of illustrated books on photography, design, lifestyle, and travel has recently established teNeues Digital Media with offices in Berlin and New York (publisher Hendrik teNeues founded the US branch in 1983). teNeues launched their first apps and eBooks in late 2010, and the publishers consider the convergence of their print and digital media products and content key to their future strategy.
For more than 50 years the teNeues brand has been recognized for calendars, stationery products, and illustrated books of the highest quality. Based in Kempen and Berlin, Germany, the publishing group is run by Hendrik teNeues and his brother, Sebastian, with offices in New York, London, and Paris, 150 employees and distribution in over 70 countries worldwide.
###