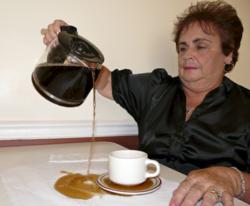 Basically, these problems are not detected on the eye chart or in prescribing glasses or doing glaucoma tests or looking for cataracts.
Boca Raton, FL (PRWEB) June 01, 2011
Whitehall Boca Raton, a skilled nursing and rehabilitation facility, today took the wraps off a functional vision rehabilitation program that helps patients resolve long-standing vision problems not detected through traditional eye examinations.
The facility developed its program with internationally recognized neuro-optometrist Dr. Larry Lampert, one of only 511 optometrists certified worldwide in vision development and vision therapy by the College of Optometrists in Vision Development. Lampert, who has worked with Olympic athletes, professional golfers, baseball and tennis players, notes that undetected vision impairments are prevalent in elderly people — but very often overlooked. Those problems regularly contribute to falls, blurred and double vision, difficulty reading, focusing issues, an inability to walk in a straight line, depression, and more.
Therapy for people with undetected vision problems can play a particularly significant role in people who suffered strokes or head injury. Indeed, the U.S. Army in February 2011 introduced functional vision testing for returning soldiers with traumatic brain injury.
Undetected vision conditions include convergence insufficiency, binocularity problems, visual midline shift syndrome, and impaired peripheral vision. (Learn more at the Neuro-Optometric Rehabilitation Association.) Once detected, specialized therapy and training that involves no medication or pain is employed.
"In strokes, you have a lot of visual field loss," said Lampert. "With head injury and strokes you have a lot of binocular vision problems and usually an increase in exophoria, meaning that as the eyes turn in to read, there's a natural position they want to be in, and that may not be perfectly aligned with the words on the page. The eyes may have drifted out, so that one eye is pointing a half inch from the other eye. You then have to use forces in your brain, eyes, nerves and muscles to converge to overcome that. Our goal at Whitehall is to give them the skill. When we're treating the convergence problems and the binocularity problems, we're actually trying to train the patients."
Few optometrists are trained in functional vision rehabilitation, one reason people who read 20/20 on an eye chart still have problems.
"Basically, these problems are not detected on the eye chart or in prescribing glasses or doing glaucoma tests or looking for cataracts," said Lampert. "I remember an LPGA golfer I worked with who had binocularity problems. He'd say, 'I look at the hole, I look at the ball, I look back at the hole, and the hole just moved six inches.' It was because of a binocularity problem that developed over time."
In developing the program with Whitehall Boca, Lampert noted that "all but one of the patients I checked that were admitted because of falls had some binocular vision problem."
Lampert, who will continue to work with patients at Whitehall, added there are few centers in the country specializing in functional vision rehabilitation, and that Whitehall is the only area-wide skilled nursing center to offer it.
"We are so pleased to have the opportunity to offer this program on site," noted Steve Mulder, executive director at Whitehall Boca Raton. "It's a tremendous offering for our patients."
Whitehall Boca Raton is a 154-bed skilled nursing and rehabilitation facility that offers short-term and long-term care. It remains a family-owned and operated company, with specialized rehabilitation and therapy programs. Out of more than 500 competing facilities, Whitehall Boca was named "Facility of the Year" by the National Association of Health Care Assistants, and in 2010 was recognized by Dorland Health for its outstanding rehabilitation programs.
###