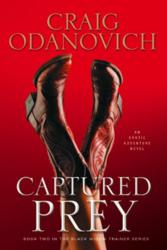 I've had a lifetime love affair with movies.
San Antonio, TX (PRWEB) June 01, 2011
Author Craig Odanovich puts his latest erotic adventure novel, Captured Prey (Emerald Book Company, paper, $14.95), into play in a panoramic string of glamorous settings. The plot drives a whip-cracking pace—from the windswept ranchlands of Texas to the back rooms of political power, with New Year's Eve on the sparkling beaches of Rio and New York high society in between. Odanovich deftly weaves his cast of characters together in a novel packed with drama, occasional hilarity, and spirited romps—inside the bedroom and out.
Misty, an elite fitness trainer to a well-heeled male clientele, operates at the hub of the action. Known as The Black Widow Trainer for a famous "one and done clause" in her contract, she spins a clever web for the powerful men who come her way, and delights in her catches—but this time, she is snared by her own trap.
Misty launches her newest adventure in Texas, land of vast ranches, longhorns, and big money. Right out of the gate, something's amiss: her new client is as possessive as he is puny-armed, a combination Misty finds supremely unattractive. After falling hard for her client's brawny ranch foreman, Travis, she lands squarely on the horns of a dilemma: break her own contract and risk her business reputation, or waltz forever out of the embrace of her new love? We're in Misty's cowgirl boots for all the action: two-stepping her way through country dance halls and Austin honky-tonks, raucous partying on the Guadalupe River, and playing not-so-hard-to-get on Lake Travis. Spoiler alert: what happens next in Texas, does not stay in Texas!
Is there a more potent cocktail than sex and politics? Maybe it's no coincidence that Misty learns to order her martinis "dirty" in Washington. Odanovich takes this romance novel out of its normal boundaries into political thriller territory, sparking our blood lust for scandal fueled by media frenzy. Our pulse quickens when a long-legged, hard-charging political maverick named Molly applies the full force of her popularity and beauty-queen pulchritude to wrestle Misty's congressman client out of office. When Molly's thugs dig up muck-raking pay-dirt and checkmate Misty in her own game, Misty is abruptly thrown from the wood-paneled halls of power to bare-knuckled cat-fighting in women's detention. We hold our collective breaths as she walks the plank of scandal and ruin. Don't miss the shockingly delicious surprise conclusion!
As in Odanovich's first novel, The Black Widow Trainer, the people we meet in Captured Prey are vivid and true to life—sophisticated and rough-hewn, worldly and gritty. We get a taste of their appetites: they seek their pleasure in novel situations, and take it raunchy, real, and unbridled. We find we like these folks, for their humanity and for their fierce loyalty to Misty. She adds to her growing circle of fans and staunch friends with Captured Prey.
Odanovich's book is punchy and direct, teasing us along with breathlessly intense bedroom encounters, charged plot, and rapid-fire interplay between tautly drawn characters. His signature style is cinematic and epic in scope, influenced, in his own words, by "a lifetime love affair with movies." From the crackling, conversational dialogue and the roller-coaster pace, we can easily imagine The Black Widow Trainer's story unfolding onto the big screen. For now, escape to Misty's singular world through the pages of his thoroughly enjoyable second novel in The Black Widow Trainer series.
People are talking: http://www.facebook.com/blackwidowtrainer
For more information, visit http://www.theblackwidowtrainer.com.
Praise for The Black Widow Trainer
"I loved your book. . . . great sex, great storyline, total fantasy. . . Jackie Collins x one thousand."
—Christy Canyon, host of "Night Calls," Playboy Radio
". . . appeals to what most men fantasize about, a hot woman, hot sex, wealth and swanky places. . . . highly entertaining one; the first of a series starring Misty the top trainer at a health club on Maui who becomes an independent fitness trainer to some of the world's most sophisticated and wealthy men who are willing to pay a lot and go the limit to have Misty get them in shape and get them into her bed. This is just old fashion erotic storytelling."
—Bookviews
About the author
CRAIG ODANOVICH is a sports and fitness enthusiast and a longtime successful entrepreneur in the entertainment business. He has received numerous awards, including "Video Retailer of the Year" by the Video Software Dealer's Association. He lives in San Antonio, Texas, with his wife, Cathie, and their four children.
###